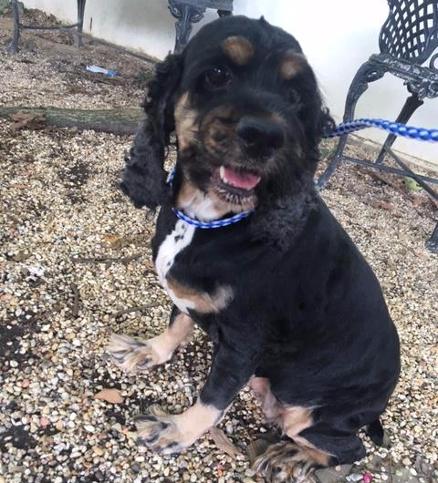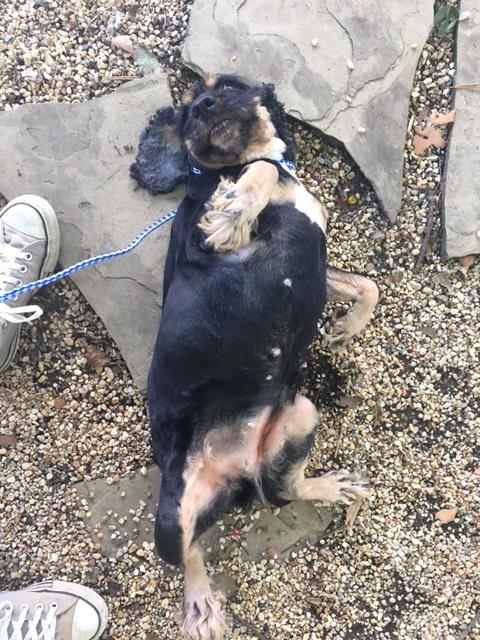 Hi, I'm Cassie, a black female cocker spaniel born around 7/29/14. My owner turned me into a shelter in Baton Rouge due to her health issues, and thankfully the nice people at GCCSR had a foster spot open for me.
I've been in foster care since July 2017 and my foster mom describes me as a sweet, silly little girl! Silly? Maybe that's because I literally throw myself at my person's feet! Whether in front of you or in back of you, I like to throw myself down, on my back and hope for some belly rubs! I love to be near you and will even steal your pillow in bed. I sort of am a bed hog, stealing most of the bed, and a hoarder, too. I hoard toys and love to play with a favorite one on the back of the couch. I'll even steal toys right out of my foster siblings' mouths. My routine lately has been to take a toy outside first thing in the morning, leave it there, and bring another toy back into the house. So, I guess I am a silly little girl for sure! Lovable, too! Velcro cocker here, and I prefer to spend time with my humans; though, I do get along well with other dogs, too as long as they don't mind me taking their toys!
I'm housebroken; although, I have had a few accidents likely from being in a new place. I let you know when I need to go out by standing by the door, or by the doggie door in my current foster home. I am shaved down at the moment but was so well-behaved when my face needed a trim. I love, love, love food and treats so much that you may want to watch your fingers when handing me something yummy because I'll grab it like I've never eaten before! Because of this, I would do best in a home with no kids or with children over the age of 7 -8 years old.
I'm spayed, heartworm negative and up to date on all my vaccinations. I do have the beginning stages of cataracts, so whoever adopts me will need to take me to the eye doctor occasionally for that. Sometimes there are drops that can help slow the progression, sometimes juvenile cataracts will reabsorb, and sometimes dogs are candidates for cataract surgery. Unfortunately, there is no ophthalmologist here in Lake Charles where I'm being fostered, so we don't have the answers to all those questions with respect to my specific condition.
That's all I can think of for now to tell you about me... so now all I need is my very own family to love me for the rest of my life. Is that you?