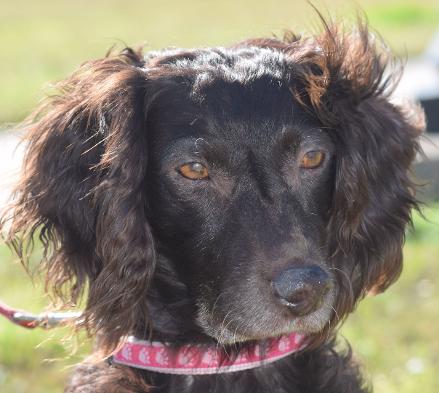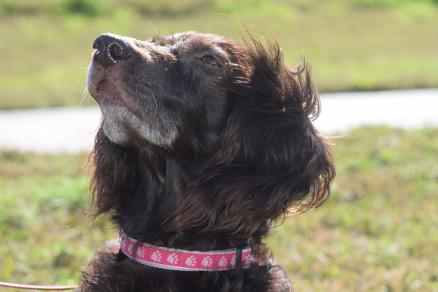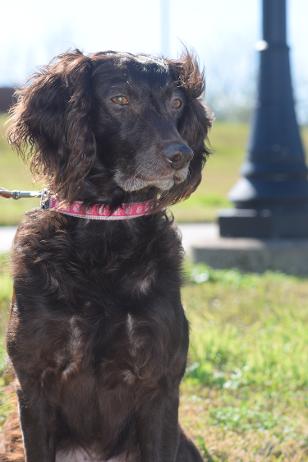 Hi, I'm Charlotte, a sweet female boykin/cocker spaniel with an estimated date of birth of October 2012. I came to GCCSR from Galveston County, surrendered by my owner because they no longer had time for me. The shelter staff said I have a wonderful personality and am a total doll, who really loves attention and has a little nubbie tail that doesn't stop wagging. Not sure why nobody could possibly have no time for me. I don't demand much, and I'm sure to add lots of joy to your life.
I've been in my foster home since late October, and they describe me as a well-behaved, laid back, very sweet dog. They brag that I rarely bark, even when other dogs are barking, and describe me as "cool as a cucumber", even when other dogs or people approach me on our walks. You could say I'm just a polite, little darling who rides well in the car and enjoys a good scratch or belly rub every now and then.
Even when it comes to food, I'll patiently inspect it until you give it to me - never one to just grab. I'm house and crate-trained, and very willing to take my naps and go to be in it without any fuss whatsoever. When I wake up in the morning, though, I'm definitely ready for some playtime. My foster dad wanted me to tell you I drink a lot of water, so it's a good idea to walk me or let me out in the backyard every few hours to potty. In order for me to be successful with housetraining, it's important I be kept on a routine.
I weigh in at around 29 pounds, am spayed and up to date on vaccinations, and was able to get rid of crusty eyes, hair loss and inflammation, likely all attributable to allergies, with a good diet, some meds, and long overdue TLC from my foster family. I've completed heartworm treatment, so if my bio sounds like I'd be a good fit for you or your family, please submit an application for adoption now!