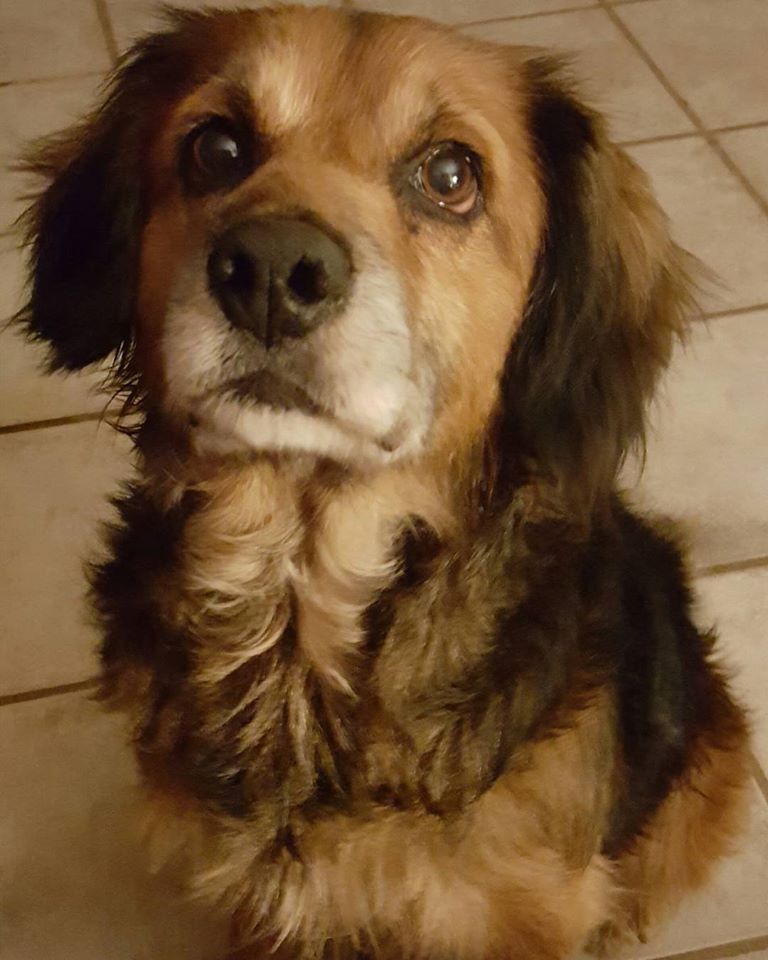 Hi, my name is Crosby, my estimated date of birth is February 2013, and I'm a healthy boy weighing in at 41 pounds. Although we can't be sure, everyone thinks I'm a brown and black Australian Shepard mix. I came all the way here from Corpus Christi when the shelter there reached out to GCCSR, claiming I was a cocker mix. The folks at GCCSR thought I was super cute and agreed to take me in, but as soon as I arrived at my foster home with other cockers, everyone knew I probably wasn't a cocker. That's okay though... they said I can be an honorary cocker!! In the meantime, they did some reading about Australian Shepherds and said this about my breed: "Personality traits of the Australian Shepherd vary from dog to dog. Some can be outgoing and friendly, while others are shy and reserved. Aussies are highly intelligent, loyal, and thrive on human companionship."
Consistent with this description, my foster mom confirmed very early on that I am a smarty pants. Within days of arriving at her home, they discovered I can sit, shake, lay down and roll over. I'm a young boy and I love to play with toys, especially balls. I love playing fetch and will bring the ball back to you so you will throw it again for m; eventually I tire of this game and will let you know I'm done by not returning to you and laying down with my ball out of your reach.
I would do best in a home with children over 15 years because they know how to respect my space, not sneak up on me, get in my face, tease me too much, etc. During my time in my foster home, they've learned I greatly prefer female to male dogs, but I'm not sure about cats because I haven't met any yet. They also say I'd probably be happiest in a home without any other dogs, where I can get all your attention; but if you happen to have a submissive, female, low energy dog, I seem to do fine with them in my foster home.
In the spirit of full disclosure, I did mark on the furniture when I came to my foster home, but once I was neutered, I haven't done it again. I told you, I'm smart... and I want nothing more than to please my people.
I am heartworm negative, current on all vaccines and microchipped. If you're looking for a smart, handsome boy to complete your family, then I'm the guy for you! To adopt me please submit an application today!