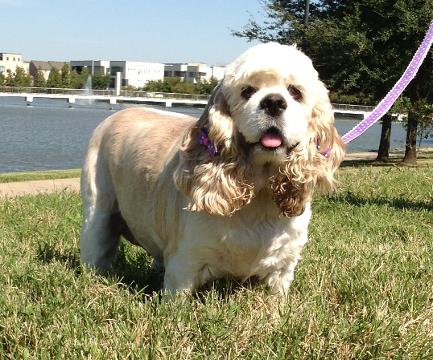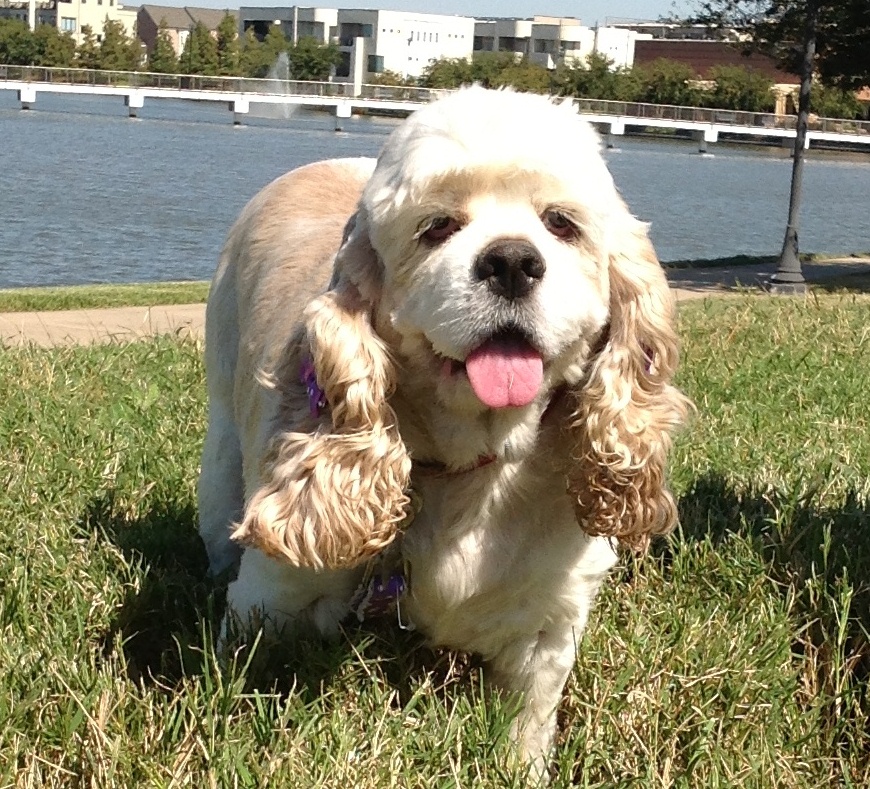 Hi, I'm Dixie, a buff and white female Cocker Spaniel. I'm a young girl with an estimated date of birth of 8/13/12, and let me tell you ~ my foster mom is telling everyone what a sweetie pie I am. I'm mild mannered, love kids, play well with other dogs, and am just an all-around doll. I love soft, squeaky stuffed animal toys and enjoy chasing my tennis balls around inside and outside the house. I love my toys so much that I sometimes hoard them so that they'll always be in a safe place for me to find and go play with again and again.
I'm described as having moderate energy and really enjoy going for walks and napping as well. There isn't another dog that is a sweet as me, who gets along with everyone; dogs and humans alike. I haven't met any cats just yet, though. One thing's for sure… I'm going to make an A+++ addition to a nice family!
Like a lot of cockers, I have pretty bad allergies. In my case, it means I struggle with a skin condition. The nice folks at GCCSR see to it that I see my dermatologist every 4-6 weeks, and my foster mom follows the doctor's orders to a T. Currently, this means that I get 2 baths every week with 2 special shampoos and a diluted bleach rinse. My ears are cleaned twice weekly, she applies chlorhexidine foam for my yeast problems, I take oral meds every day, and I'm on a prescription diet. Everyone is hoping to get me stable enough to do allergy testing and put me on some immunotherapy (via injection or drops under my tongue) that may lessen the need for all the other treatments, but we're just not there yet.
Until we are, GCCSR will pay for my vet bills, I'm available on a foster-to-adopt basis to the right family who is willing to keep up with all my special care. I know it seems like a lot, but everyone who meets me says I'm more than worth it.
I had a litter of puppies in my earlier life before rescue, but I am now spayed, as I don't care to be a mommy again. I'm heartworm negative and very reliable in the house!! So...what do you say? Check me out and fill out an application today if you think we'll be a good match!