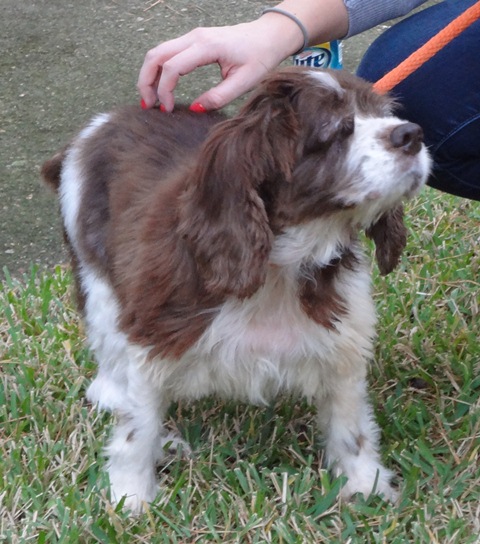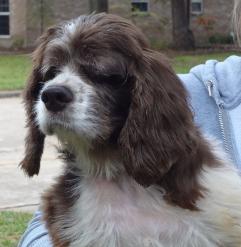 Hi, I'm Emma, a parti-colored, 6-year old female Cocker Spaniel, with an estimated date of birth of September 13, 2007. I really have been through quite an ordeal as you can probably tell by my photos. I've been blind in both eyes for some time, and when I was found and picked up off the streets by a shelter, my eyes had already developed a very advanced stage of glaucoma. So, my angels at GCCSR got me from the shelter and scheduled eye surgery, which resulted in my already blind eyes to be fully removed. The diseased eyes were causing so much pressure in my head, I felt as though I were having a migraine 24/7. It was awful, but the pressure has now gone away; and, I'm concentrating on recovering from this surgery in my new, loving foster home.
I was crated much of my life, and forced to live in the crate with my own urine and feces all around me. I had no choice. It got to a point where all that 'stuff' in my crate got caught up in my fur, up to my shoulders. You should see what the doctors and groomer had to cut off of me just to free me from the feces and knots and overgrown fur. I sure was a mess and people cannot believe that I was forced to live like that. The people who used to own me must have dumped me out onto the streets because if they went to a shelter to get help to find me another home, they probably would have been arrested for abuse. So, I'm really looking forward to having a loving, caring forever home. Someone who will treat me much, much better. GCCSR says I deserved so much love, and I promise to return that love to you DOUBLE. I hope I can find that soon! My foster mom says that I am sooooo very sweet. Even after being treated so poorly, I really love people. I don't care much for cats, though.
I'm heartworm negative, spayed and had a hernia repair in Sept 2013 . I'm now ready for my new home! If you're interested in adopting me, please fill out the application so we can start my new life together!!!!!!!!