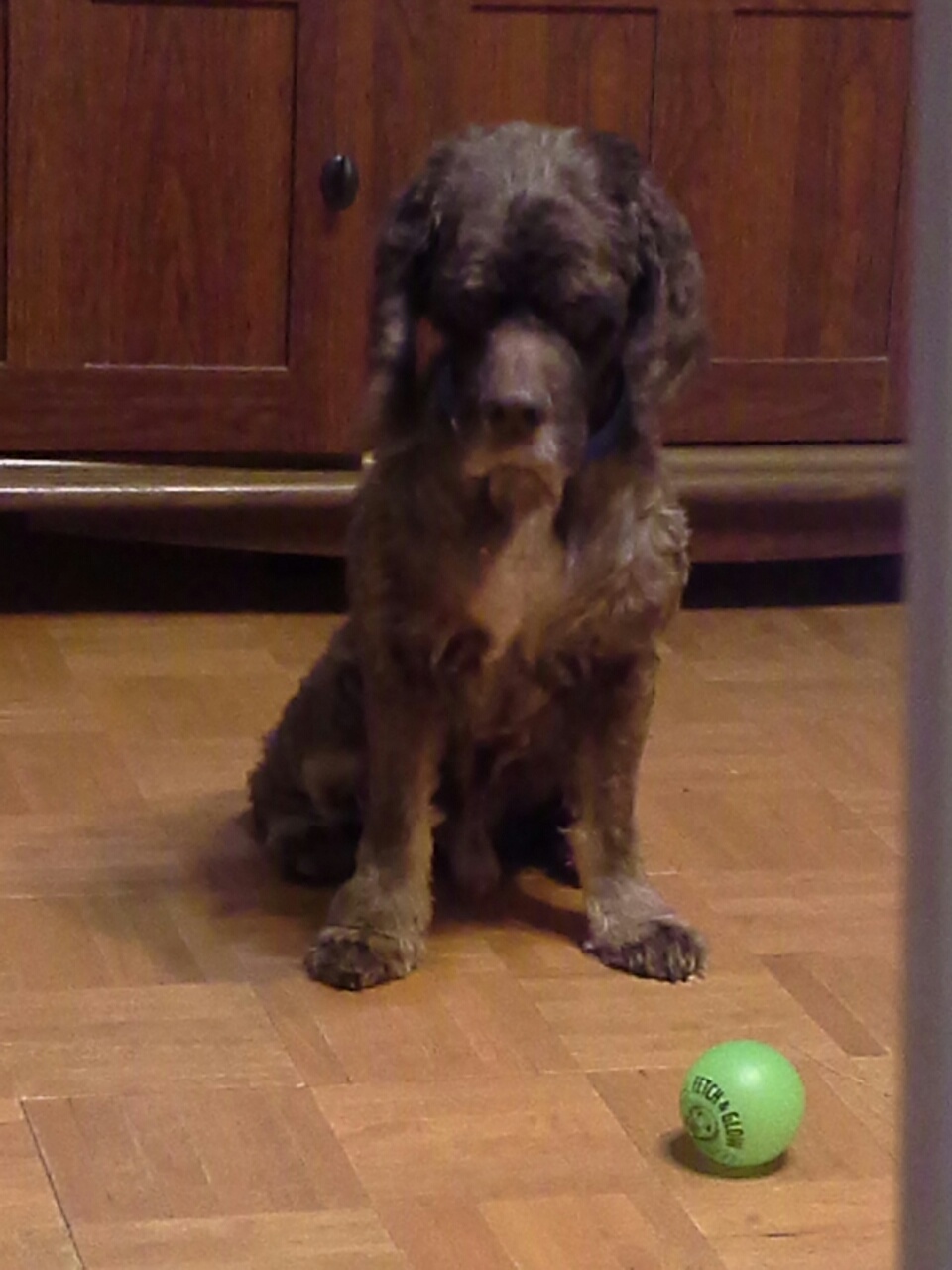 Hi, I'm Fergus, a chocolate-brown Cocker Spaniel with an estimated birthday of 1/20/2005. FYI, I sure don't act like I'm 8 and I'm smart as a whip, too! I like to play with toys and love hiding my favorite ball in the couch cushions!!!!! Fetch is also one of my favorite games to play and I love to eat. Even though I enjoy toys and playing, I also settle down nicely to relax and take a good nap.
I came from the SPCA in Louisiana, and they told the good folks at GCCSR what a great dog I am, which my foster mom agrees. I'm described as a playful, friendly, little wiggle butt who loves to jump up in laps and get lots of love and attention! Hey, who wouldn't?!?! I know the command, 'sit' and 'shake paws'and am potty-trained. Also, I am very cooperative and attentive (a benefit of us older guys). I enjoy kids and try to get them to play with me and take part in my favorite game of fetch. I love having the ball thrown for me and I can do it for a good amount of time. My foster mom has noticed that I walk around with a toy in my mouth quite often.
I'm loving this healthy food that my foster gives me. I had some missing fur and flaky skin, which has improved considerably since eating the new, delicious, wholesome food!
I am very well-behaved, easy-going, and eager to learn, that I'd enjoy some more training with my new forever family! Being a senior is such a benefit to an adoptive family who likes a dog to be calm, yet playful, behaved, and most of all – little to no training. I'm already trained, like to play AND rest. I give lots of love, enjoy companionship, and I know you'll enjoy my company, too. I would love to live out my future years in a home that will appreciate my mature; yet, frisky ways. I've had labwork done on me and everything came back great, except for a low thyroid count which is easily treated with inexpensive meds I'll need to stay on for the rest of my life. I'm heartworm negative, and once I'm able to make it to Houston, I'll be seen by an eye specialist to see if I'm a candidate for cataract surgery, which would be paid for by the kind folks at GCCSR.
If you don't want to start all over with a puppy and if you don't care to clean up little potty accidents in the house, then a senior is for you. Senior is just a term for us older guys, because I sure still have plenty of spunk and love to give.
If you are interested in meeting me, just fill out the Adoption Application and lets get the ball rolling!ADOPT FERGUS