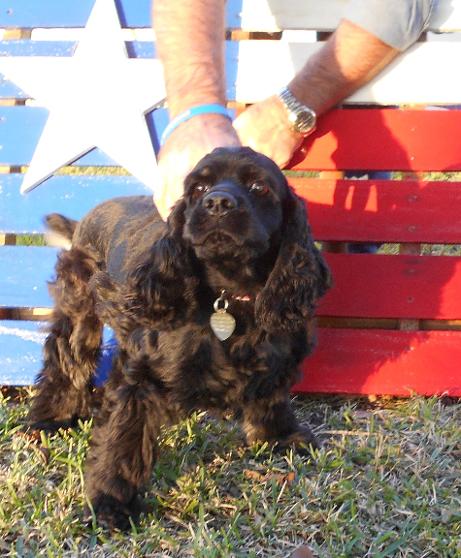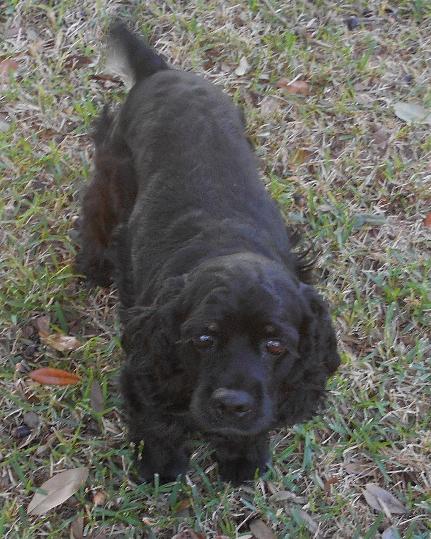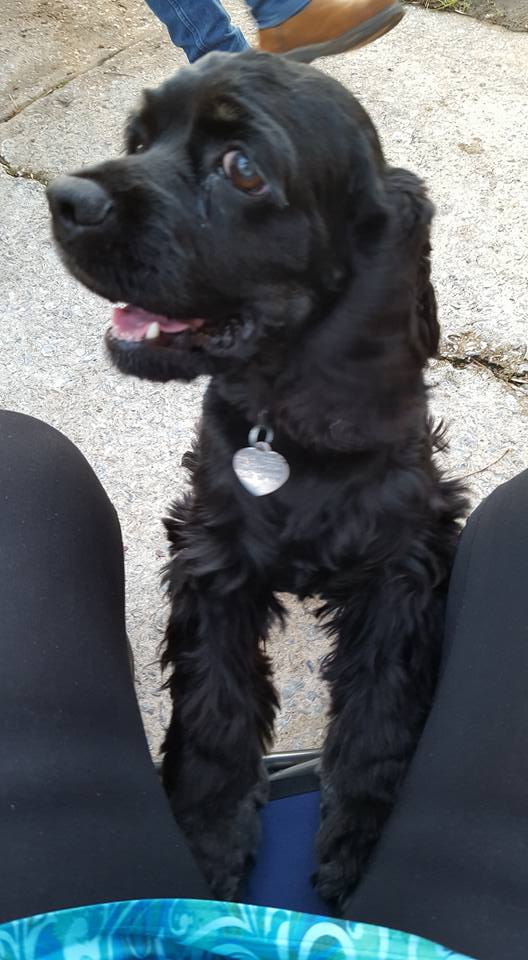 Hi, I'm Gracie, a female cocker spaniel with an estimated date of birth of 10/26/2011. I came to GCCSR from a shelter in St. Tammany Parish, Louisiana, and my foster family describes me as extremely cute and very playful. Playing with tug toys, fetching, and chasing are my favorite things in the world, and when I go outside, I think I'm on patrol in the yard for cats and squirrels as I roam all around sniffing and searching. I love love love going somewhere in the car, it is so much fun. I am a great cuddle bug and love belly rubs or I can be content just laying close to my human. I will follow you anywhere, I love walking on a leash to explore, and exploring is my most favorite thing to do. I can sleep in your bed or be happy in my bed on the floor. I mind very well and follow commands pretty quickly and getting better every day.
I am not only a very pretty girl, but I give great hugs. I like my human close and need confirmation that you are close by.... until I am adjusted (just by talking to me), then I will be ready for my sit stay commands to know you aren't leaving me. I am learning that the bathroom garbage is a no no, I just like tissues & my foster mom and dad had a cold recently. So not a big thing, right??
I don't mind visitors, even lots of them as long as someone holds me to keep me safe. Sometimes I get surprised easily due to my limited eyesight. But if someone holds me or stays nearby, I don't get startled or scared from something or someone I can't see. This helps to keep both me and them safe.
I get along great with most dogs I meet, but I don't take well to anyone leaning over me (dogs OR humans). I appreciate when someone stoops down to my level or sits down to pet me, and I really like it when a human comes up and talks to me with their hand out for me to sniff. I think this shows good manners and I will like and adjust to them faster. Anything moving fast or over the top of my head scares me and I will react with barking and sometimes will snap to protect myself, so I need to be on a leash when outdoors.
Despite my youth, I have been diagnosed with juvenile cataracts. The eye doctor noticed that my left eye had already reabsorbed and dissolved the cataract, and we are hoping that the same thing will eventually happen to the right eye with the help of daily eye drops (although there are no guarantees that will be the case). Basically that means that I see pretty well out of my left eye, but struggle to see out of my right eye. However, I try not to let it slow me down. I am very adept at following scent to find my way around. I will sometimes run into your leg if I get in too big a hurry, so it gets kind of funny. I will even walk off the edge of the driveway and fall into the ditch if you don't keep me on a leash and tell me to "stop!" But none of this keeps me from enjoying life. I even like to play with toys, I can even go fetch if the object is tossed close enough for me to see it, I will bring back to you until I am tired of the game.
I will sleep best if in bed with you, barely moving all night. I will be as lazy or as active as my humans are. I love both, so I would appreciate enough time for activities to keep me active, while allowing me time to rest when I am tired. Just like any dog.
My foster Mom says she has discovered that I need to be walked to go potty but I don't take too long. I will go potty in the fenced yard, but I mostly like to track scent so the leash walk tends to keep me on track better. I never learned how to let you know when I have to go potty, so you just have to be sure to walk me after each meal and then as often as you deem appropriate. If done appropriately I will never have an accident, which is wonderful considering my background. Just give me a little time to digest my meal to be truly ready, but you will know all that if you have had dogs before, right.
All in all, I am a lovely little girl who would be great for a quiet, small family with older children who can be taught to approach me properly, and also without cats. I do not like cats and think that I should hunt them to extinction. I am working on that, my foster Mom has tricked me and I have actually slept with the cat a couple of times but I really don't want them around. You know, just to keep the peace.

One more thing... I know my basic commands, I do pretty good with my weekly bath and will tolerate the blow dryer, I love being brushed, it is ticklish to me and I get silly and will love on you, giving lots of kisses. I like to play, go for walks, love a car ride, and like playing with other dogs. I will love anyone who is kind to me, I have been around kids but need some more patience with their sudden movements as I get startled easy. I really want to find my forever home where I can be protected as well as loved and played with to my hearts content.
I'm heartworm negative and up-to-date on vaccinations. So what do you say to a sweetheart like me? I'm a beauty and my foster mom says I'll make an excellent addition to the right home and family.