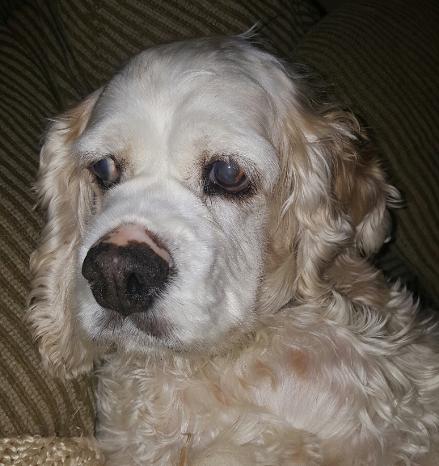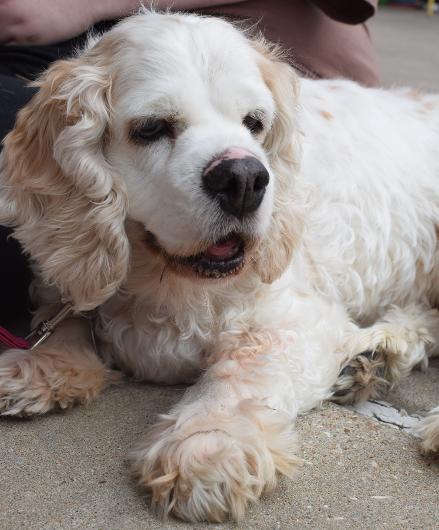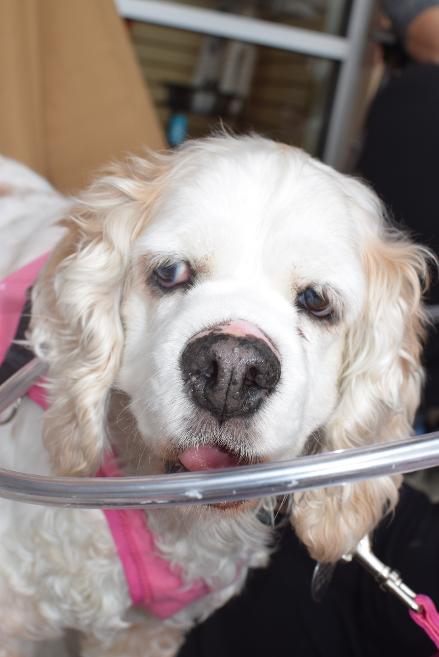 Hi, I'm Holly, a sweet, lovable senior girl with an estimated birth date of December 2001. Don't let my age fool you!! I'm still a spunky, somewhat independent dog who prefers canned food (I just love my breakfast and dinner), soft toys and my space. While I'm affectionate and enjoy lots of love, I sort of prefer it all on my terms. I'm affectionate with my foster family, letting them know I want to be held by nudging their leg with my 'halo' or my nose.
My 'halo' is something I wear when I walk. It fits on me like a vest, and it helps me avoid bumping into things since I'm both blind and deaf. I appreciate when someone touches my head or back prior to just scooping me up in their arms so I don't get startled. For this reason, a quiet home would be best for me with no children, or older children. I am not overly playful with other dogs due to my inability to see and hear, but I don't mind them around. I get along with the other foster dogs in my home, and even enjoy the groomer. I'm a senior girl that still wants to look her best! Every now and then, I'll have an accident inside, but I'm working on that.
My first couple of days out of the shelter were a little scary with a trip to the emergency vet, but the kind folks at GCCSR did full labwork, xrays and ultrasounds of my heart and abdomen, and with some meds and a prescription diet for my kidneys, I was released. Since then, my health has continued to improved and all my levels are holding steady. I do have a heart murmur and a slight cough, which we believe is likely related to the heartworm infection. I'm current on vaccinations, and my vet is currently deciding the best point at which to spay me amidst my other treatments.
In the mean time, If you have a lot of love to give and wouldn't mind sharing your home with me, please submit an application! I'm ready to begin my happily ever after!