Hi, I'm Honey. I was adopted from GCCSR back in 2011, but unfortunately my mom is turning 80 and she's no longer able to keep up with her house and yard anymore. She has to move into an apartment, and they won't allow me to live there. Even if they did, my mom has trouble walking and balancing, so she wouldn't be able to walk me several times daily the way I'll need.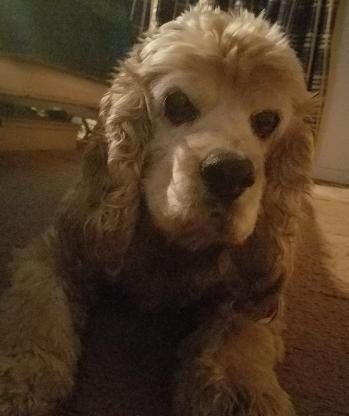 I'm 9.5 years old, am spayed and up to date on my vaccinations and heartworm prevention. I'm currently living in Oak Park, Michigan, so I'm hoping to find an adoptive family nearby as I don't want to fly anywhere. That would be scary. I've lived as an only dog with my owner, but I do get along with her daughter's lhasa apso. I don't appreciate other dogs with a lot of energy or don't respect my personal space, but if you're respectful of me, I'll be respectful of you. Re: interactions with children, although I haven't had the opportunity for a lot of that, when I have, I've done just fine. Again, as long as they respect me and my space, there's no issue.
Regarding my health, I've got 'typical' cocker eyes, so my vision and hearing are starting to go. From time to time I have an accident inside, so I'm hoping to go to the vet soon to see if I have an infection or if some meds might help me. I am really sad that I have to leave my mom, but she says this is best for me. I'm hoping to find someone who loves me the way she has the last 6 years. Are you that person?