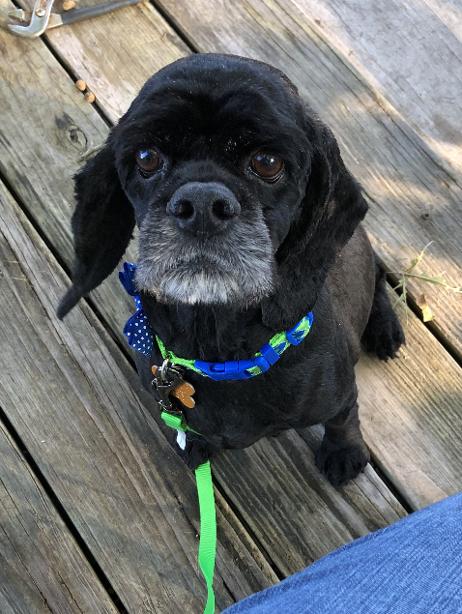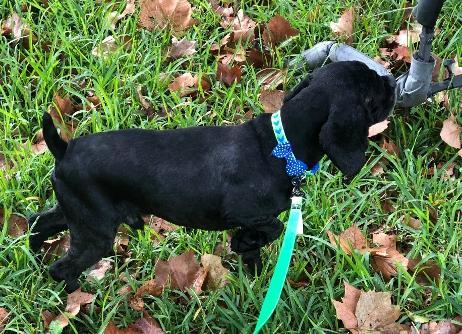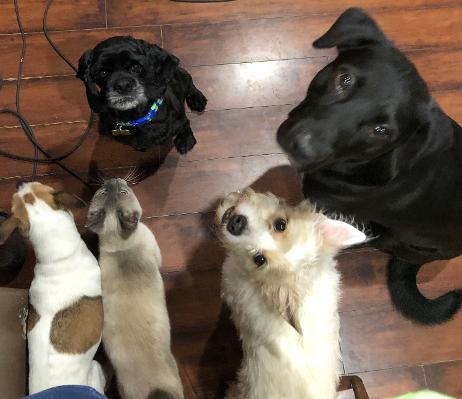 Hi, I'm Jack, and my estimated date of birth is April 2013. Everyone says my story is a sad one, as my owners moved away and left me behind. Some neighbors were kind enough to feed me, but I wasn't allowed inside anywhere, and my hair got really long and matted, so much so that it restricted my movement and made me a little weak in the hind end. My foster mom is amazed at how I live in the here and now, and don't seem phased at all by my past. Well, I consider myself very lucky to be where I am now! I just love my foster mom and follow her around everywhere!

My darkest days changed overnight when someone heard about my plight and decided to take me to their groomer to get my hair cut. I was so good for my grooming even with all the time and effort it took to relieve me of that pulling feeling from all the knots and mats. Heck, I even enjoyed the thorough ear cleaning I had to have. That sweet lady, who made me feel like a million bucks, reached out to GCCSR to see if they had room in their program for me, offering to foster if needed. Even though they don't usually allow dogs to be fostered outside the Houston area, they felt really bad for me and decided to make an exception.

During all this time with no vet care, I got heartworms, so I'll be undergoing treatment for that. I can't wait for my treatment to be over because, as you may know, I must be really quiet and still for the time being. Once the doctor gives me the all clear, though, I'm looking forward to rolling in the leaves outside, playing with soft, squeaky toys and enjoying a good game of fetch. In the spirit of full disclosure, my vet noticed a low grade heart murmur that we need to keep an eye on, but nothing overly concerning. I'm neutered, up to date on my vaccinations, and I'll be getting a microchip.

Now, on to the fun part. I LOVE my new life. I love my new foster mom, I REALLY love the kids in the house, the foster dad is okay, and my doggie siblings are mostly great, too! I currently live with a variety of dogs, male and female, of differing sizes and ages and for the most part, we get along just fine. My foster mom has noticed, however, that sometimes I'll jump on the larger lab mix at home, and when large dogs approach outside the house, I am very apprehensive. While my foster mom is quick to intervene and let me know what behavior is and is not appropriate, I'd probably be happiest in a household with dogs closer to my own size or smaller. Generally speaking, though, after all this time of being alone, I'm really enjoying everyone's company, and my foster mom is smitten with me. She takes me places like Home Depot, and I love riding in the car. Pretty much anywhere you are, is where I want to be.
Because my prior owners abandoned me, sometimes I get a little bit of separation anxiety when everybody leaves the house. Please be patient with me while I get used to the fact that you will always come home to me after going to work or running errands. I enjoy lots of loving attention, a routine is important to me, and food is right up there with my favorite humans! I must learn not to grab fingers along with the treat, if you know what I mean. I'm working on that, I just get so excited to eat and sometimes get a little possessive of my food around the other dogs.
My ideal human would love walks with me, playtime, feeding me lots (I'm not supposed to say that), and give me lots of attention. I am fine with my size or smaller dogs in the home, and kids of any age as long as they know the correct way to respect/treat a dog, who is still trying to figure out all my new beginnings!
If I sound like the guy for you, please submit an application today! I'll be ready to go after my heartworm treatment is done, which will be in January or February of 2020.