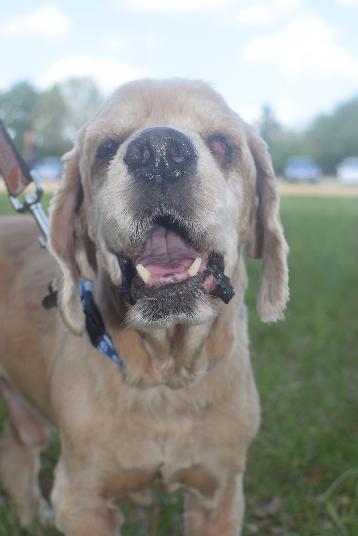 Hi, I'm Jasper, a buff, male Cocker with an estimated birthday of March 7, 2007. I was found as a stray by a good Samaritan who cared enough about me to get me to safety. I'm such a sweet boy, and you shouldn't be fooled by my age. I have more energy than the average 10-year old and I love to run and jump up on the furniture and play with soft, squeaky toys!
I've been enjoying walks with my foster family, too! I don't mind when other dogs approach so long as they don't want to jump up on me or sniff me too long. There are other Cockers in my foster family and I get along just fine with them, and I like kids! Yup, I've met a few kids of various ages and I am a true gentleman.
I'm missing some teeth, so my foster mom makes my meals with kibble and some baby food. Isn't that so nice that I'm being loved on so much!?!?!? I am enjoying myself and would love a doting family to adopt me. I'm not an attention hog or anything like that, but I do love my people and enjoy some snuggle time and just adore being held! Okay, okay, so I do love attention, but what guy doesn't???
I'm such a sweetie for my grooming, too. I knew that my foster mom was trying to rid me of all my matted fur, and I sat still while she groomed me and had to cut quite a bit off to stop all that matted fur from pinching at my skin. Didn't care for my ears being cleaned because it hurt a bit, but I'm all cleaned up now and feeling brand new.
Unfortunately, I am heartworm positive and will be undergoing treatment soon. A cherry-eye tuck will also be scheduled soon when they neuter me. Don't let any of that change your mind on me. I'll be back to top health really soon, and am available on a foster-to-adopt basis to a home willing to take me to the GCCSR vet on the southwest side of town for my heartworm treatment.