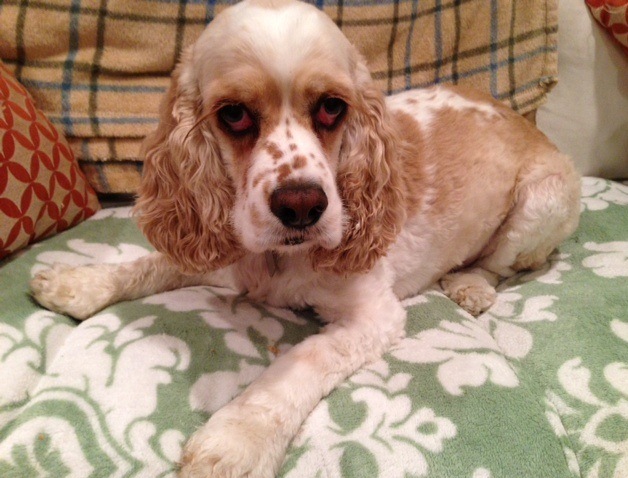 Hi, I'm Kimper, a white and buff, purebred male Cocker Spaniel with an estimated date of birth of 3/9/2012. I love to play and go for walks – my foster mom even tells me how well I walk on leash. I get along really well with other dogs; and, I even get along just fine with children! Some of my pictures show that I had cherry-eye in both eyes; but, I just had surgery to correct that. Cherry eye is just a little condition when the third eyelid detaches/prolapses and sticks out. It was important for this to get corrected because it doesn't look very nice; but more importantly, I need those eyelids in place to keep my eyes healthy, protected, and adequately lubricated.
I'm doing wonderful with my recuperation, and all the redness is almost completely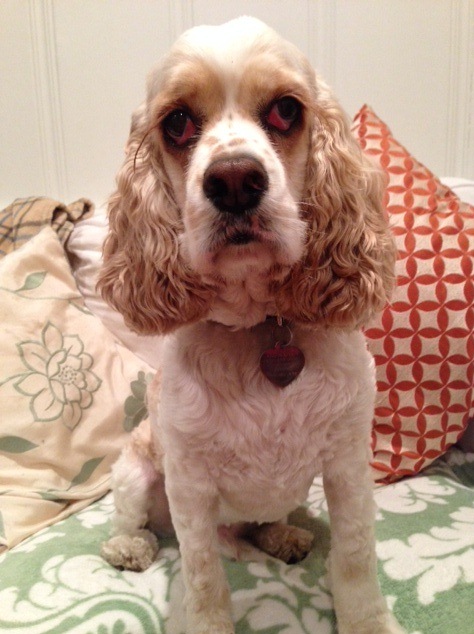 gone. I'm enjoying my foster home with other dogs! My foster has also taught me to sit and lay down. I'm pretty smart because I've figured out that if I sit when asked, I get whatever I want like a treat or toy!!!!! I have caught on to the housetraining thing with flying colors and have only had a few accidents (when I don't want to go out in the rain). We're still working on my potty training for those rainy days when I don't always finish my 'business' outside.
The crate was a new concept for me at first; but, I've got it handled now. No problem for me going in there. I've learned that it is my own safe, cuddly spot. Oh, speaking of cuddly, I love to cuddle and just adore attention.
I'm working on my 'resource guarding'. Sometimes I don't want to give up a special bone or treat. However, my foster mom is helping me with this habit, and I am getting better and better every day!
So, what do you think? I'm pretty terrific, huh? If you and I are right for each other, please consider filling out an adoption application so I can be in my forever home and get started in sharing fun-filled days and cuddly snuggly nights!!!!!!!!
Kimper is heartworm negative, up to date on his vaccinations, neutered ,and ready to begin his new life with you today!