Niko here, formerly known as Athos! Born around September 6, 2012 and just thrilled to be in the hands of GCCSR in the good ol' U.S.A. I'm from Korea where I was in a shelter that protected me from horrible things going on like the meat market. The shelter named BAPS, ran out of resources to take care of me and a bunch of the others, so I flew 13 hours to get here to my foster home in Houston!
Now on to the really good stuff . . . me, a real puppy at heart! I'm such a smarty-pants that I already know the sit and stay commands and am working on shake and leave it. I am just loving my foster home and really enjoy lots and lots of attention! In the few short weeks that I've been here, it's been determined that I am an alpha dog and so is the resident dog here at my foster home. Man, she can be a real pest. Trying to be the boss. Yeah, yeah, I know it's her house, but I for one love to be in charge and the center of attention. Sure, I let Miss Bossy drink from the same water bowl as me at the same time, but she just better stay away from her, I mean, MY new toys. I'm loving all these squeaky toys and deer antlers and balls. I don't share well and don't even care to share people with the resident dog. She and I give each other space, like when I am on the sofa, she knows not to come up and vice versa. A growl usually will do to give each other the warning to give each other some space. I likely would do best as the only dog in my forever home, or would be okay with canine siblings who don't mind being second best to me! Hey, I was in South Korea for a while and I am going to live up this new life. Do you blame me?
I don't mind a good fur brushing, but do we really need to get me in the bath? Then, as if that wasn't bad enough, that hair dryer thing just has to go. I mean, I hate that more than anything.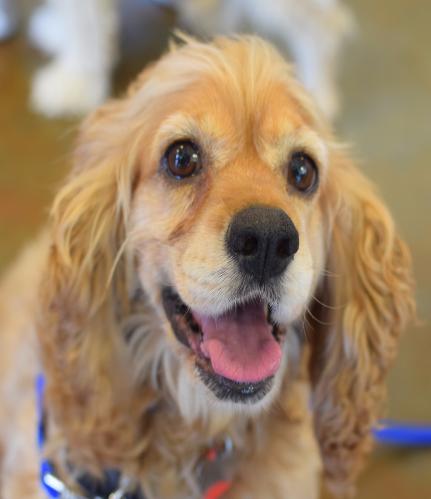 I can jump and counter surf and steal food, so if you want it, keep it out of my reach, like up really high because I'll get it. I beg for food and enjoy it so much! I guess you can call me a foodie, heee, heee! Oh, and I guess I'm not supposed to jump up on kids? I just want to say hello! All these rules in my new home. I can't help it that I'm constantly wagging my tail and want to be seen. Older kids would be best because I get overly excited and jump and don't want to knock over any of the little ones. So, aside from that alpha resident dog, I do seem to be very good on my walks while encountering other dogs, but I pull. Yup, I pull so they are using this harness thing on me to control me a bit better. Ha! I'll let them think that it's working. I may sound all confident and tough, but there's nuttin' a guy likes more than his crate and blanket. Yup, I am so silly, I get all snuggly in my blankie and fall asleep to classical music, which my foster mom puts on for me whenever she leaves the house. She says that I'm such a sweetie pie and I couldn't agree with her more. You'd agree too. To know me is to love me!
I'm neutered and up-to-date on vaccinations, but heartworm positive, and going through treatment which will last into the first part of 2018. If you are local to the Houston area and can provide a calm environment, taking me to the appointments I'll need at my vet, GCCSR will consider a foster-to-adopt arrangement while completing treatment, but that's something to be talked about after you submit an application to adopt me. What d'ya say? I'm waiting!! Are you the one for me??