Hi, I'm Paisley. I was born on 12/7/2013, the only puppy to a spaniel mix mom and a purebred American cocker spaniel dad. As a result, I missed out on some valuable socialization lessons as a young tyke, so we're trying to catch up on that now. I lived with a couple in Louisiana for the first 3 years of my life, but they weren't sure how to handle me and didn't have access to any trainers. I barked a lot there, and it was really frustrating when they didn't know what I wanted, so things just kept escalating. The bad part was, they worked from home and kept getting in trouble for clients hearing me bark, so that's when they reached out to GCCSR for help. I moved to Houston in February 2017 and spent 6 months in a foster home who worked with me and a trainer, but some things happened that changed the whole energy there, so everyone decided it would be best for me to stay with my trainer for a while.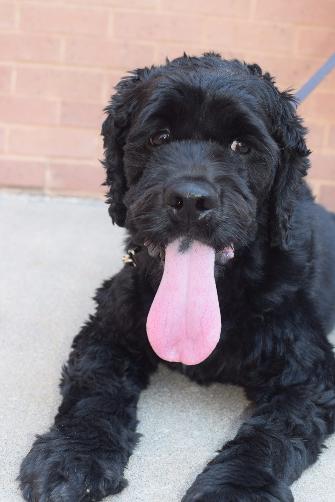 I live with a couple of larger dogs there, and they don't bother me at all. I guess they kinda show me the ropes too, and along with theirs and the trainer's guidance, I'm learning all kinds of things. She takes me for multiple walks every day, and is teaching me that there's no need for me to be afraid of everything and everyone in the world. I'm a work in progress, and will need a very CALM, low stress environment in which to live. I also do best with a very stable routine, and seem to be thriving when I know exactly what I can count on and when. I don't mind spending time in my crate, and will sometimes even put myself to bed there if I'm tired and my people aren't yet ready to turn in for the night. Because I can be scared and nervous sometimes, little people under the age of 7 would not be the best environment for me… but anyone who can respect me and my space is A-OK with me. Once you let me approach you on my own, I'm typically pretty quick to determine you're okay, and may even bring you a ball to throw for me.
When I'm not scared, I'm actually very sweet and I love my people. I'm a little silly and LOVE to play with balls and toys.
The really good news about me is that I'm learning a bunch of command and am likely to turn into one of the most obedient dogs out there… my family will just need to be sure to practice with me a few minutes every day so I don't forget everything I learned. I need a strong, competent leader who will maintain my routine and not let me get away with things I know I shouldn't do, like counter-surfing, etc… but with a little guidance, I promise to be a good boy and your very best friend.
Are you willing to give me a chance?