Hi, I'm Prince. I was surrendered to a Houston area shelter when my owner died, and the family didn't want me anymore. By the time I got there, I was really dirty and matted all over. I had to be shaved, but now my soft coat is growing in beautifully. GCCSR's vet estimated my birth date as of 3/2011, so I've got a LOT of life and love left to give. I love playing with stuffed animals and basically anything you hold in front of me; and I really love to engage in horseplay with my foster dad. I'd enjoy a forever home with someone who will like to play with me and keep active.
While I'm waiting to get healthy enough for surgery, I'm settling in well to my foster home, and they have a lot of good things to say about me. First, I already know how to sit, and I'll let you know when I need to go outside by whining. If you don't listen to me, I might potty inside, but that typically only happens overnight when my foster mom doesn't hear me. I have marked the chair legs, doggie bed, and table legs, but my foster parents tell me they think training will be more effective after I'm neutered. I'm not a huge fan of the crate, mainly because I want to be in the same room as you. I really like attention and my human's company!
When I meet new people, I'm really happy and excited to meet them. My foster parents are working with me on this to teach me not to jump up on everyone, telling me it's something about good manners. One thing, people in scrubs make me really nervous and I will growl and bark at them... so make sure to change clothes before you come to say hi to me :).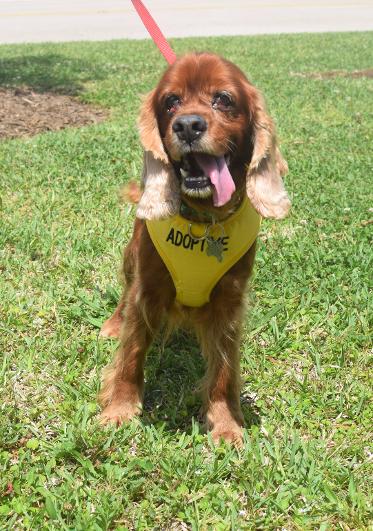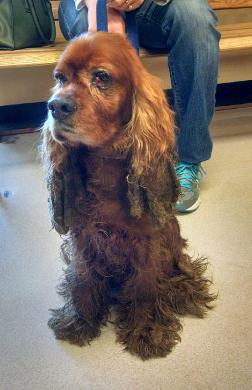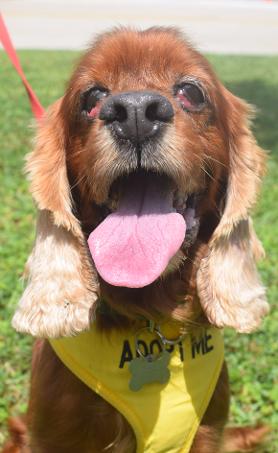 I also have a tendency to scarf my food right now, so my fosters feed me out of a bowl that's like a puzzle to slow me down. I'm putting on weight slowly but surely, and I get along with one of the dogs in the house who they've introduced me to. I'll be introduced to the others once I'm neutered.
Oh yea, I almost forgot... my foster parents have this thing called a Roomba, and it scares me to death. They tell me there's nothing to be afraid of, but I'm not so sure.
I am heartworm positive, need to be neutered, and my double cherry eye will be addressed at the time I'm neutered. If you're interested in adopting me, please submit an application today!