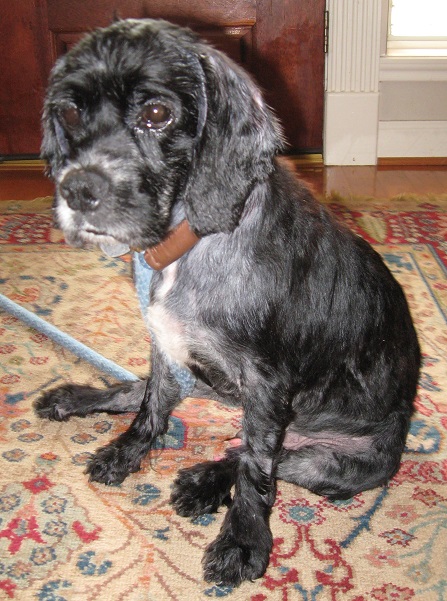 Hi, I'm Rudy, a black male Cocker Spaniel cutie who is estimated to be about 8 years of age. I was originally found as a stray and when my owners were located via Craig's List, they surrendered me to a rescue group. Long story short – I'm now in a foster home with GCCSR.
I'm doing really well despite some medical problems from being neglected in the past. When I first entered the program, they thought I was blind and couldn't hear at all, but after receiving ear and eye meds for 7 weeks, it seems that some of my vision and hearing has been restored. Despite these issues, my foster was amazed how quickly I learned my way around her house and was pleasantly surprised when the conditions seemed to improve.
In addition to my eye and ear issues, I came into GCCSR's program with sarcoptic mange, a UTI, and was terribly malnourished and underweight. I'm pleased to say my skin is healing nicely, my hair is filling in, and my weight is now a healthy weight.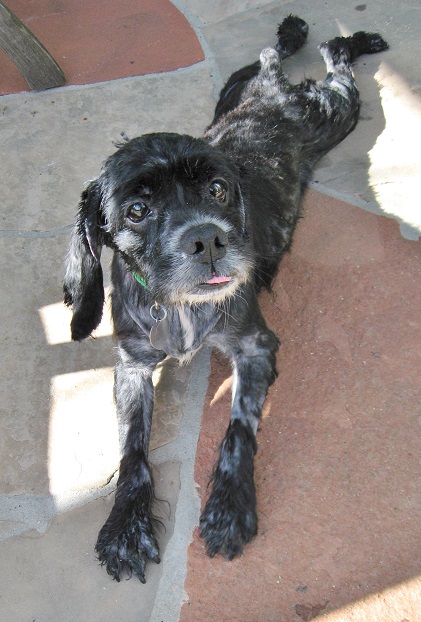 I love my foster mom, but due to my mange/hair loss issue, I couldn't play with the other dogs in the house until I wasn't contagious anymore. I'm just now able to interact with them and seem to do fine, even though they're much larger than me. At first, I wasn't a fan of my crate and tended to lick the bars and drool profusely when placed into it. Over the past couple of weeks, I've become more comfortable with it and will likely continue to improve. From time to time, my foster mommy sleeps with me, and then I do just fine and sleep for the whole night. I guess you can call me a "momma's boy", but from what I know, there are a lot of Cocker's who love to be with his/her people!!!!!! Nothin' wrong with that if you ask me!
For right now, I eat in my crate and will growl if another dog sniffs through the crate at my food. My foster mom is working with me on that, and also with my marking issue. This is likely because I haven't been neutered, but I was neutered on 7/25, so over the coming weeks, we expect this will improve. As my hearing and vision improve, as well as my confidence that I'll never be without food or a warm, soft bed, I become happier and have even started to do my "happy dance" from time to time.
I am a prime example of a neglected dog who just needed good nutrition, shelter, medical care, love, and a bit of guidance. Given where I came from,
I've improved a lot medically and behaviorally in just a few weeks and undoubtedly will continue to do so. If you take a chance on me, I'll be forever grateful.