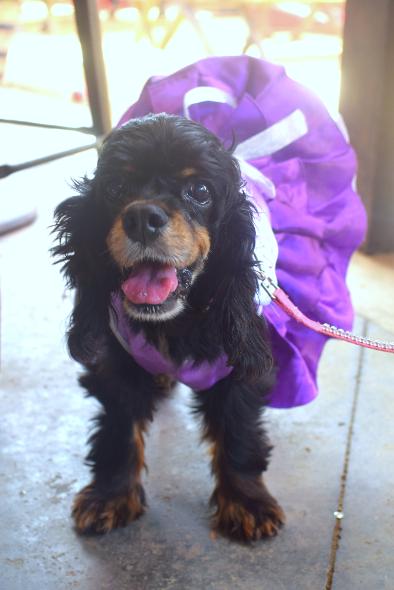 Hi, I'm Sasha, a sweet little Cocker who was surrendered to GCCSR recently due to some unfortunate events that happened in my owner's life. My estimated date of birth is October 2005. There are several dogs in my foster home of various sizes and ages. I get along with the boys much better than the girls. As much as I would love to be the only girl in your life, I do get along with more alpha males, as long as they don't touch my toys.

Did you say toys???? Let me tell you, they are all mine. I'll gently take any toy and put it on my own special bed. Okay, maybe not just toys? I'll also take anything I can find on the floor, or that my cat friend has knocked off the counter…chip clips, cans of Pringles, paper and pens…they wall go well with my collection of toys and bones. I don't like to share my treasures, and will get protective over them. I love a good tennis ball, and prefer to play soccer rather than fetch. (Foster parent note: it doesn't look like she had many toys, and didn't really know how to play, until now. She is hilarious to watch trying to fling the ball around)

I may be a senior dog, but don't call me OLD! I've got plenty of energy for walks and fun. Granted, I may have a little problem with my hearing, but I do respond to hand signals (and a water bottle when I bark at the landscapers) I do take a pill once a day for a thyroid issue, but will gobble it down no problem with a little assist from cheese. I did have some issues with my back, but they have been helped with the help of chiropractic and acupuncture treatments. I feel like a brand new dog!! Although I don't need regularly scheduled treatments, if I look stiff, a little drop in for some occasional maintenance would be nice. A lady has to keep up her good posture! Speaking of upkeep, my stylist says I'm very well behaved at the groomers and do very well when I'm getting the bows in my hair.





I'm very cautious when I first meet someone. I have been known to get a little snappy and grumpy when I'm not feeling well or tired. It does take me a little while to warm up to new people. Once I do? Look out!! I'm a cuddle bug supreme. I don't do well in a crate, it's a fate worse than death for me. A diva, like myself, deserves to sleep on my person's bed or at least close by on my own bed. I'm fully housebroken and use a doggie door. If the doggie door isn't available, I will scratch at the door to go out. I love to go for walks and car rides.
Bottom line? I would do best as an only dog. I don't feel comfortable with young children, but teens that respect my space are welcome. Kitties are fine to be around. I know some spank, so I typically keep my distance. It does takes me a little time to adjust, and warm up to my new environment. There must have been some drama in my past that makes it hard to trust new friends, but I'm blocking the specifics, and trying to move on.
If you'd love to have a petite princess in your home, fill out the application, give me a chance. My kisses are worth the wait.