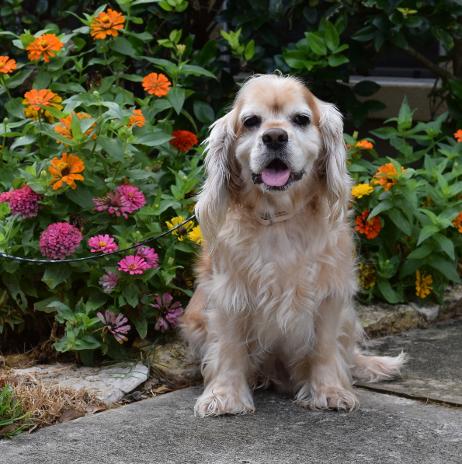 Hi I'm Troy I was born around April 18th of 2009. Unfortunately earlier this year (2014) I was found as a stray. Luckily the GCCSR family took me in and I have been safe with my foster parents since April. I may look like a grump with my white face but I am very affectionate and love to play. I love to carry around my carrot toy and sit in my foster parents' laps. I'm always up for a game of chase. I get along with my foster brother and sister and am finally starting to enjoy playing with them. We run along the fence together and help watch out for intruders like squirrels. If anybody in the house starts howling including my foster parents I have to join in and howl along with my pack.
I have some issues from my stray past. I walk well on my leash but sometimes I bark and lunge at other people and dogs when I'm out. I've been working with my foster parents and my trainer and I'm learning how to be polite in public. I still have trouble with new people coming into my home but once I settle down I start making friends and require petting from everyone. I'm in good health - heartworm negative, no allergies, and have a healthy appetite (especially for banana snacks!) I love to root around in things and sometimes eat them so my foster parents keep a close eye on me.
I don't mind going to the groomer to maintain my awesome hair doo. I grumble a little at first but the groomer says the hardest thing about grooming me is my constant snuggling. I will go in my crate but I like to detour on my way there in hopes mom and dad will change their mind. I'll bark for a minute once they corral me but then I quiet down and go to sleep. I'm a late sleeper though so sometimes they have to force me out in the morning.
I've never been around cats so I don't know how I feel about them yet. I've also never been around kids to GCCSR suggests a home without children for the time being. I am constantly working on my manners and getting comfortable with family life. I can't wait to have a family of my own!