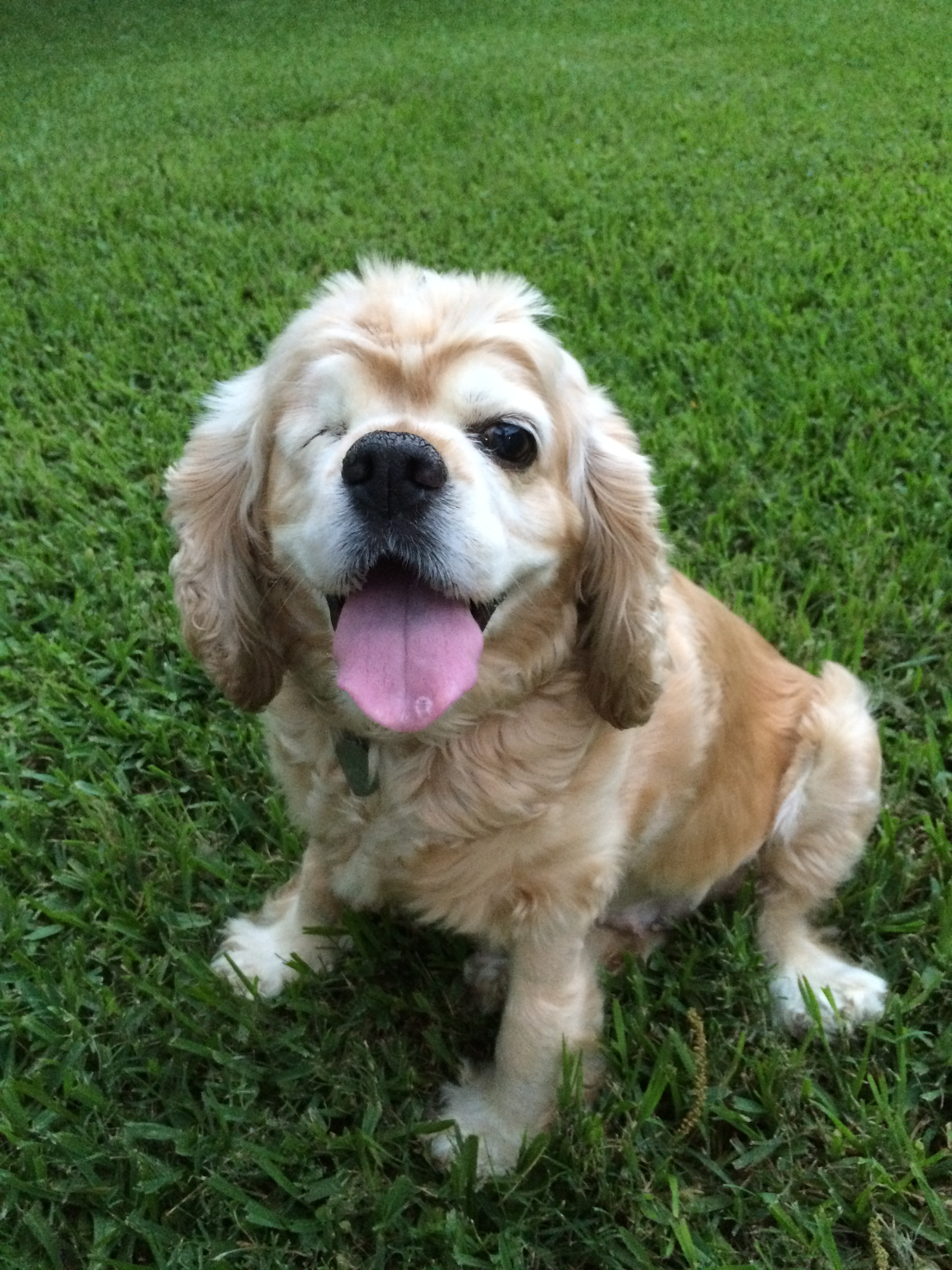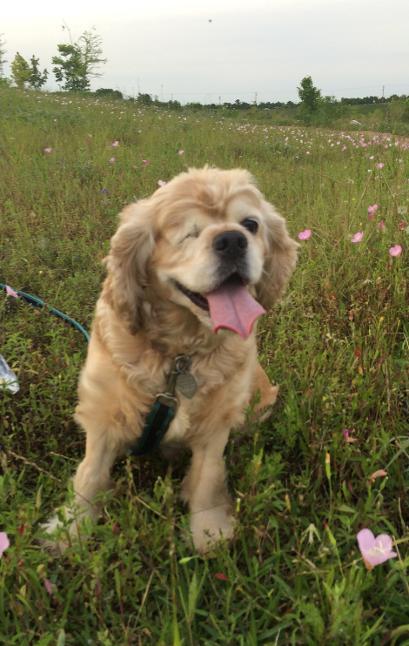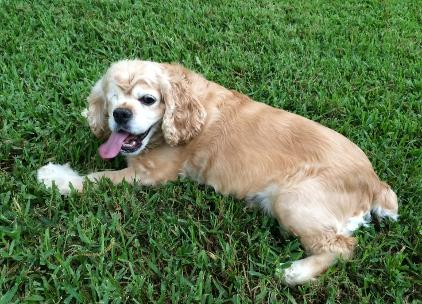 Hi everybody, my name is Zola! I'm a creamy, buff-colored, sweet female Cocker Spaniel with an estimated date of birth of 2/24/2009, who (according to my foster mom), is pretty much perfect. I'm just a happy, go-lucky girl, who loves people, friendly with other dogs and puppies, and I seem to like kids, too! I'm house-trained and enjoy going outside for my potty breaks so that I can explore around the backyard. After a round of 'exploring' around the yard with my foster doggie-brother, I enjoy a game of fetch inside the living room with my foster mother. Squeaky, rubbery toys are my favorite! My foster doggie-brother doesn't care to play much, but does get jealous when I get too much attention. I just bark at him and he backs off!
Long walks are one of my favorite things to do and I've been kind to many of the other dogs that I meet; although, I'm no push over. If I have to stand my ground, I will bark to let any aggressive dogs know that they should back off. People love to stop and say hello to me and always comment on how cute and happy I am!
I don't live with human kids, but I've met a few that I just love to sniff and have pet me! I don't mind their company, and am not too curious about them. I don't live with cats either and have a tendency to bark at and chase the feral cats in my neighborhood, so we're not sure how I would do in a home with resident kitties.
You'll notice from my pictures that I am missing an eye. Nobody knows what happened to me, but the missing eye is completely healed and doesn't bother me at all. I was found as a stray in Louisiana, and my previous owners didn't claim me, so nobody knows the whole story on my eye. I had two chains of mammary tumors removed in the spring/early summer and have fully recovered from both surgeries. Great news ~ both chains were benign, so I'm healthy, happy, and ready to find my forever home!
I'm a strong and healthy lady who loves to eat and slurp up lots of water. Don't worry, though – I can hold my bladder really well, and I don't have accidents. I get a little stuffy and sneezy from seasonal allergies and Zyrtec keeps my symptoms in check.
I'm a bit of a diva and just love getting brushed! I really love attention and have been referred to as a little sunshiny charmer! I wake up with a wagging tail and wonderful disposition! I'm heartworm negative, up to date on vaccinations, spayed and just a little doll! Get started on the application process if you are interested in a sweet, playful, lovable cutie like me to be your lifetime companion!