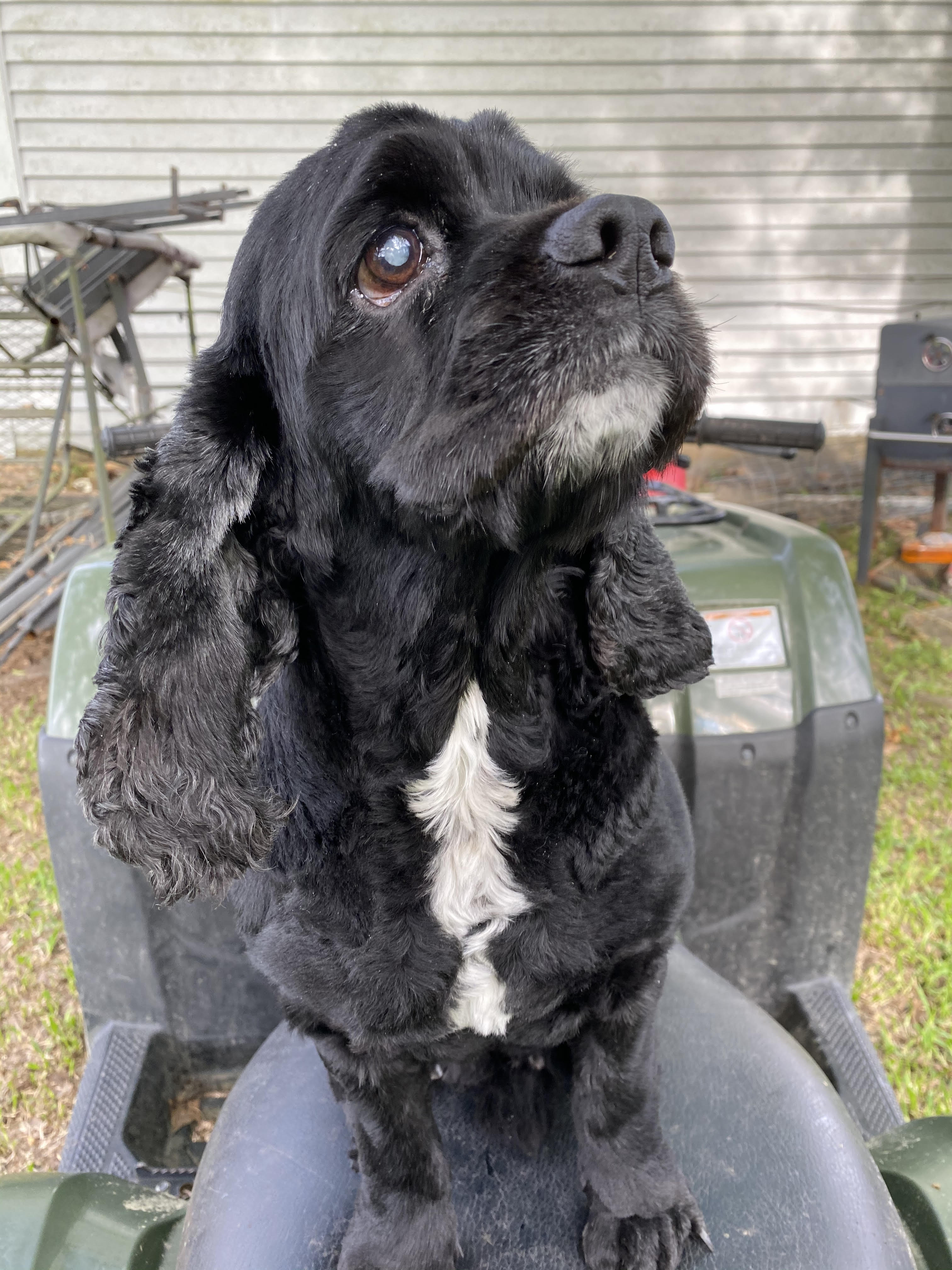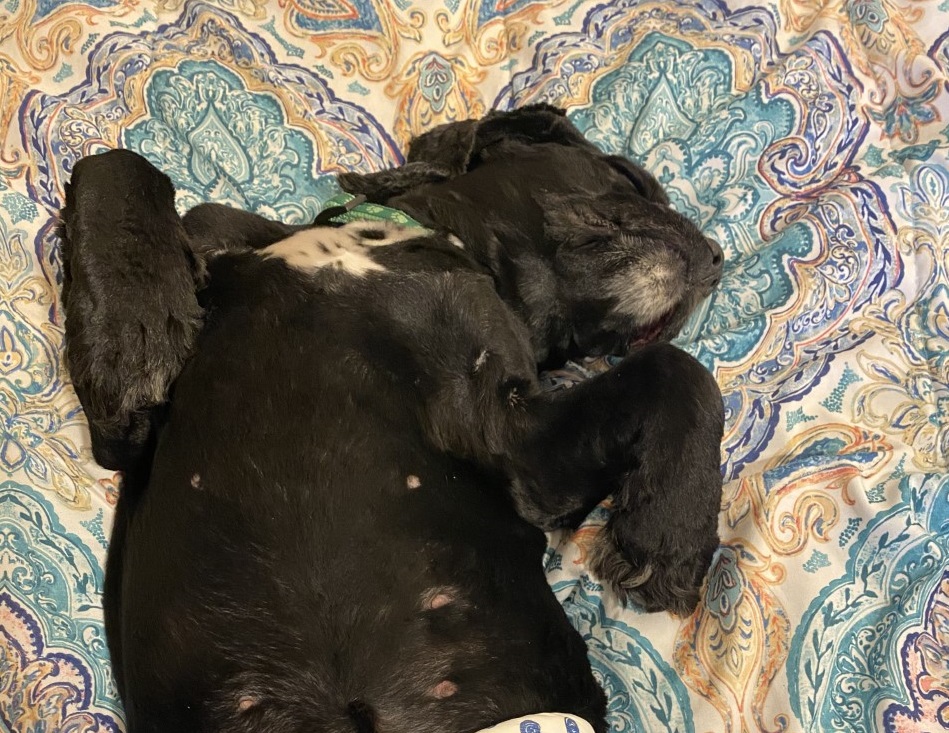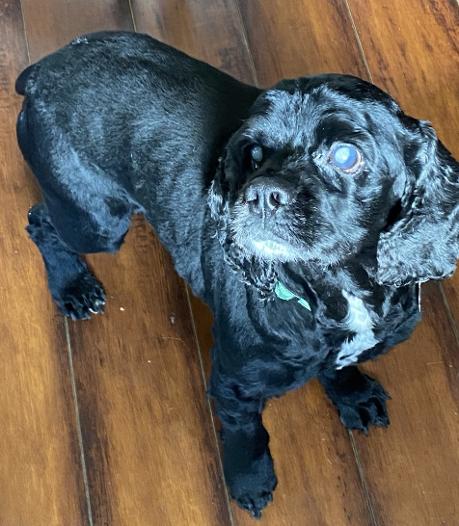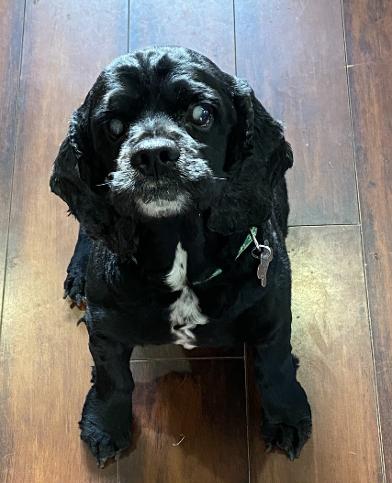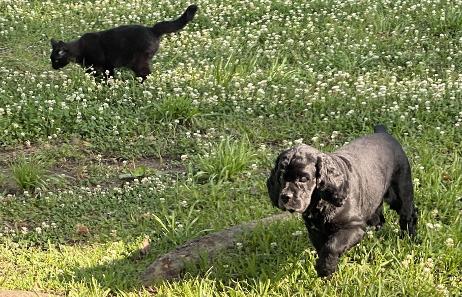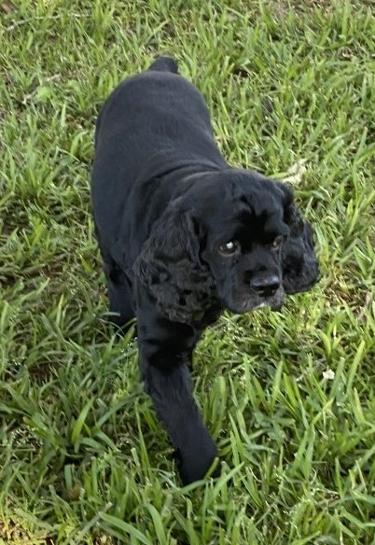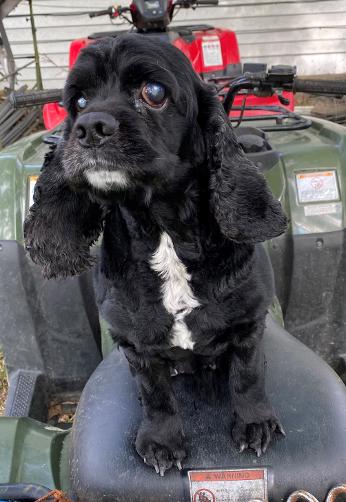 Hi, I'm Delrey, an all-black, male Cocker Spaniel with an estimated birthday of March 2012. I was an owner surrender to the humane society by a family who no longer had time for me due to extensive travel, and thankfully, GCCSR had a spot for me in their program.
Luckily for me, my foster mom knows how to groom because I had lots and lots of mats, especially around my ears and feet. While I'm super sweet and have never met a stranger, when I first came into the program, I didn't enjoy having my ears and feet handled. My fur was overgrown, stuck on my dewclaws with nails curled under and almost growing into my pads, and my ears were full of heavy, stinky mats. Now that I'm all cleaned up, my foster mom touches my paws every so often to let me know that it is okay. She hopes in time I can get used to being touched all over with no pain and no reaction.
I'm mostly blind, but don't let that scare you because it doesn't hold me back much. The eye doctor says I may be able to distinguish between light and dark when the lighting is good, and my foster mom has noticed that I bump into fewer things when it's bright. She said I learned the lay of the land at her house really quickly, and I do fine as long as she doesn't move the furniture around!
She also loves playing a game with me that she discovered when she dropped one of my treats. Now, she'll slide a treat on the floor, and I love to follow the noise and go gobble it up. Sometimes I'll accidentally find a toy by roaming around and stepping on one that squeaks . . . then, once I hear the noise, I pick up the toy and walk around, proud of my discovered treasure! I sort of like chasing toys and treats and must have had a past of being a good participant in a game of fetch!
I really enjoy being a velcro pup – I'll enjoy anything you're doing. As a matter of fact, I'll even supervise to be sure you're doing everything around the house correctly; from laundry and cooking to watching TV, taking a nap, and walks! I love everybody and never turn away the chance for some lovie time with my favorite human.
I am kind and courteous to the other dogs in the house ~ one is big, one is medium sized like me, and then there are a couple of small ones. They sometimes take toys right away from me, and I just let out a bark and then go pout on my foster mom's lap. The dogs I meet on our walks have my interest and I like to do a full inspection since I'm blind and rely on my hearing and sense of smell the most to tell me what someone or something is all about. Not everybody appreciates this inspection, but what's a guy to do!?
In addition to doing well with most other dogs who aren't in my face all of the time, I'm also good with cats. Sometimes I'll bark at them, but I won't run after them or anything. While I've done well around quieter, more predictable children, due to limitations with my vision and sensitivity about my ears and paws being touched, older children will be a better match than the little ones for me. They know how to respect my space and not catch me offguard or by surprise.
I'm housetrained, but when I first arrived at my foster home, I have to admit that I marked some because I wasn't neutered. The vet took care of that in early April, and my foster mom said I've made great progress with this.
As far as medical needs, I require daily eyedrops to control the pressure in my eyes, and we found out from my ophthalmologist that due to a congenital condition called gonio dysgenesis, I'm not a good candidate for cataract surgery. My kidney levels are mildly elevated as well, so I'm on a prescription kidney diet from the vet as well to help keep the issue from progressing. I'm neutered, heartworm negative, up to date on vaccinations, microchipped, and ready to find my forever home. While I love a good nap, I have more energy than one would think and love walks and just being around you in all you do!! Are you ready to meet your BFF? If so, fill out an application today!