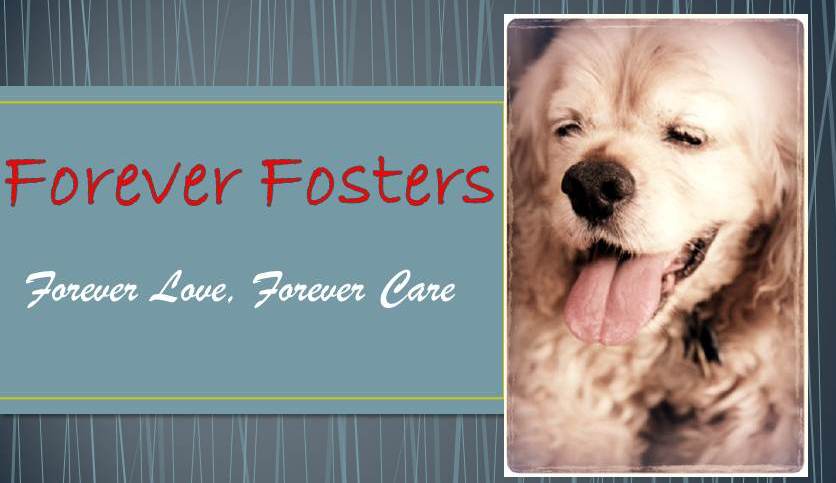 There are some dogs that come into our rescue program that require more love, attention and medical needs than others. They may have chronic health problems which might require an unusual amount of care and expense, they may be severely disabled, they may be elderly or have behavioral setbacks which cause them to not be able to adapt to new situations of adoptive families.
We feel that despite their special needs, whatever it may be, these dogs should live out the rest of their lives in a safe and loving home and to be cared for with the respect and dignity they deserve. It is for this reason that GCCSR has a Forever Foster Program. Special foster homes have opened their hearts and homes to these dogs. GCCSR continues to provide veterinary care for these dogs and the foster families provide the loving home in which they can live out the rest of their days.
In order for us to maintain the best quality of life for our Forever Fosters, we need additional funding in the form of donations. Rarely do the donations we receive through our Adoption fees cover the medical expenses we've accumulated for the care of rescued dogs, especially those with special behavioral or medical needs which we have deemed to be Forever Fosters. By contributing specifically to this Forever Foster Program, your financial gift will help us continue to save many more dogs, and to provide our Forever Fosters a well-deserved life of ease and contentment.
Thank you for supporting the GCCSR Forever Foster Program, your donation will truly make the difference in their world.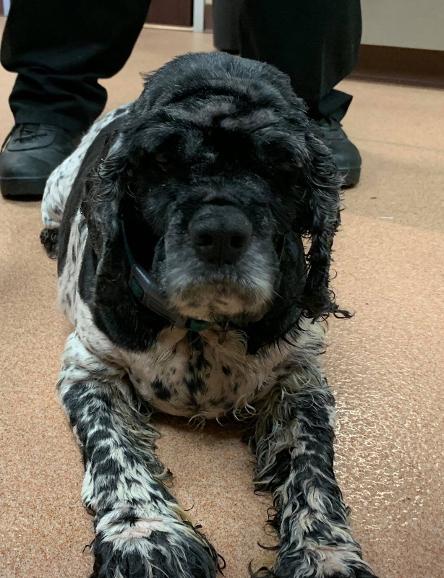 In March 2020, we removed a growth from sweet Eleanor's mouth which turned out to be a malignant melanoma. Sadly, it is aggressive and returned in June 2020, so at that time, we changed Eleanor's status from adoptable to 'forever foster.' She will live out the rest of her days receiving lots of love under the watchful eye of her foster mom, and we will let her go with dignity when it's time. For the time being, you wouldn't know anything is wrong, and Eleanor is as happy as can be.
With an estimated date of birth of February 2007, Cody came to us after one of his elderly owners passed, and the other had to move into a retirement community which did not allow pets. Unfortunately, he experienced some challenges in his first foster home which began to take a toll on sweet Cody, and we had to move him to a quieter atmosphere. Here, they provided the calm, predictable atmosphere in which he thrives, but as with many aging cockers, he's on a whole list of medications and supplements necessary to maintain his health and comfort. Due to the fosters' commitment, his recovery and newfound happiness, along with our desire to give Cody something he can count on the rest of his days, he was added to the Forever Foster program in May 2020.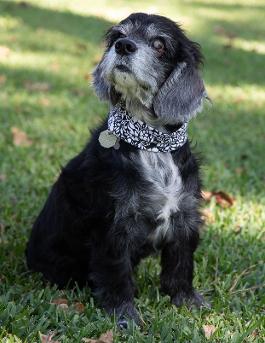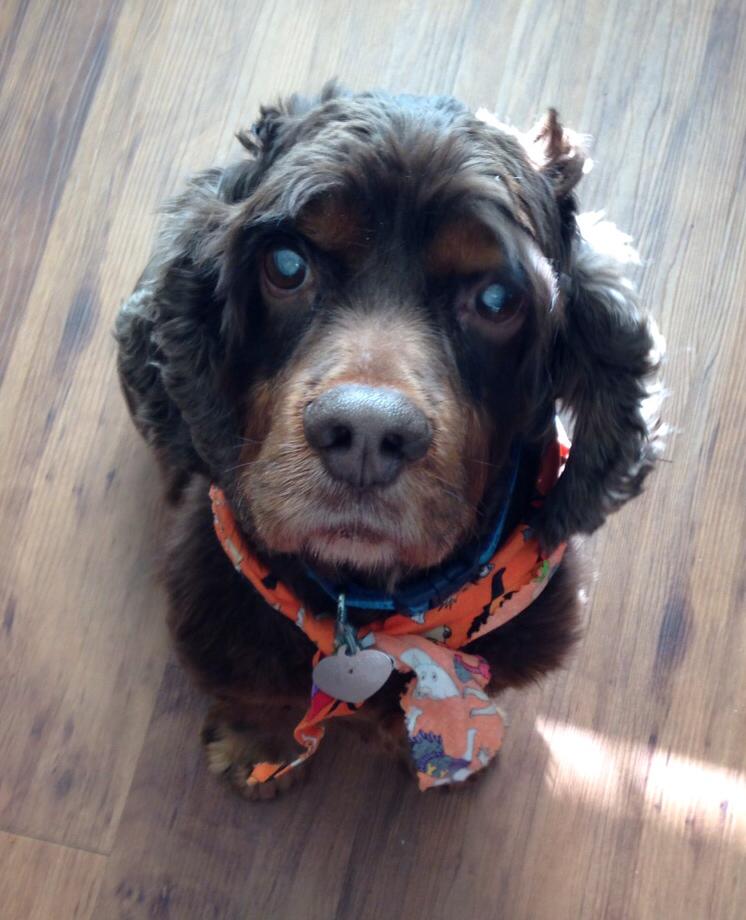 Kismet came into our program in September 2014 needing LOTS of TLC, heartworm treatment, and hip surgery. Even though he recovered from all that, he had other things 'wrong' with his lab work and issues with pottying inside, all of which eventually led to a diagnosis of diabetes insipidus. Regulating the condition with meds was a trial and error situation, and he's also struggled with one UTI after another, requiring a lot of UAs and cultures, and rounds of different meds. Recently, the pressure in his eyes have spiked, so with eyedrops and frequent vet visits, we're keeping a watchful eye on that. When someone expressed an interest in adopting Kismet, his foster family who has had him 26 months knew they couldn't bear to part with him, and the board agreed that given the current unknowns with his medical management, it would be in Kismet's best interests to keep him right where he's at. The fosters have agreed to send a quarterly donation to greatly offset the cost of Kismet's routine meds and appointments, but we know there will continue to be unanticipated expenses, as there have been for the past 2 years. Welcome to the club, Kismet!
With an estimated DOB of December 2008, Ethan came to us from a shelter in Louisiana. He went through several months of treatment for a really horrible ear infection, which also affected his ear drums. He was very sensitive to activity around his head and ears with people he didn't know. At first we thought that his sensitivity with his ears was the cause of some of his gaurdish behavior. His ears eventually healed and with proper maintenance have been free from infection for a while. Although he really is a loving, good-natured boy to those he trusts, and has never had any issues with people in the foster homes he has had, he is unpredictable with new people. Therefore, at least until some sort of sense can be made about his triggers, Ethan will stay with his foster in Lake Charles as a forever foster.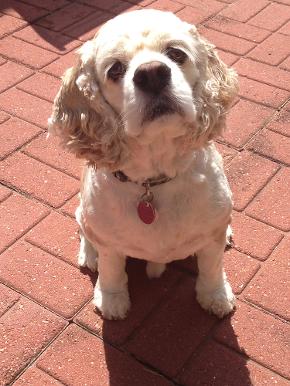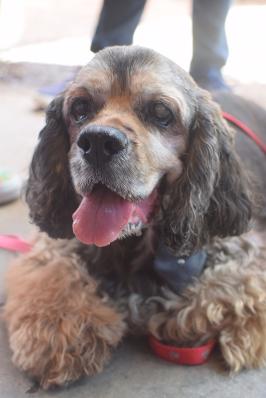 Surrendered to BARC in April 2015 at the age of 16 when his family moved, Bobo came into our program with a lot of medical issues. More than the extent of his issues, however, was the size of his heart and his zest for life. In the fall of 2015, Bobo really started to thrive, and medically he's really started to turn around. His eyes are stabilized (although still blind for the most part), and his cushings disease is being controlled well with the current dosage of Vetoryl. His foster mom is feeding him like the king he is, and his coat is filling in and getting shiny. He's got more pep in his step than ever before... and at 16 years old, we and our vet feel like the best thing for Bobo is to keep him right where he's at. "If it ain't broke, don't fix it." Keeping him in GCCSR's program as a Forever Foster will ensure that the rest of his days are pain free, and that he's given every opportunity at the best quality of life he could possibly have.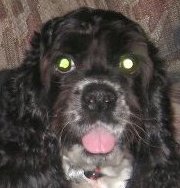 Hope is our fourth inductee into the Forever Foster Hall of Fame. Hope's prior owner tearfully surrendered her to us just before Christmas 2011, as she could no longer afford her care. The owner provided an inch thick file with all the vetting she had done, trying to help Hope with her severe allergy condition. After a year of diet changes, various medications and other treatments, our vet referred us to the Dermatology Department at GCVS, and Hope has now begun allergy injections.

Although Hope is a very sweet dog, she did not show well at adoptions. She is incredibly shy and would hide behind her fosters' legs. However, in time, she really opened up at their home, enjoying the company of her two and four legged siblings immensely. They also took incredible care of her, bathing her often, constantly giving her meds, and always following dietary restrictions to a T, all of which are required for her comfort. In order to ensure Hope's happiness and continued vetting which has proven to be a 'tall order', we have inducted her into the Forever Foster Hall of Fame. Thank you for your donations to the Forever Foster Fund which will help us make sure Hope lives the rest of her days comfortably, peacefully and happily.