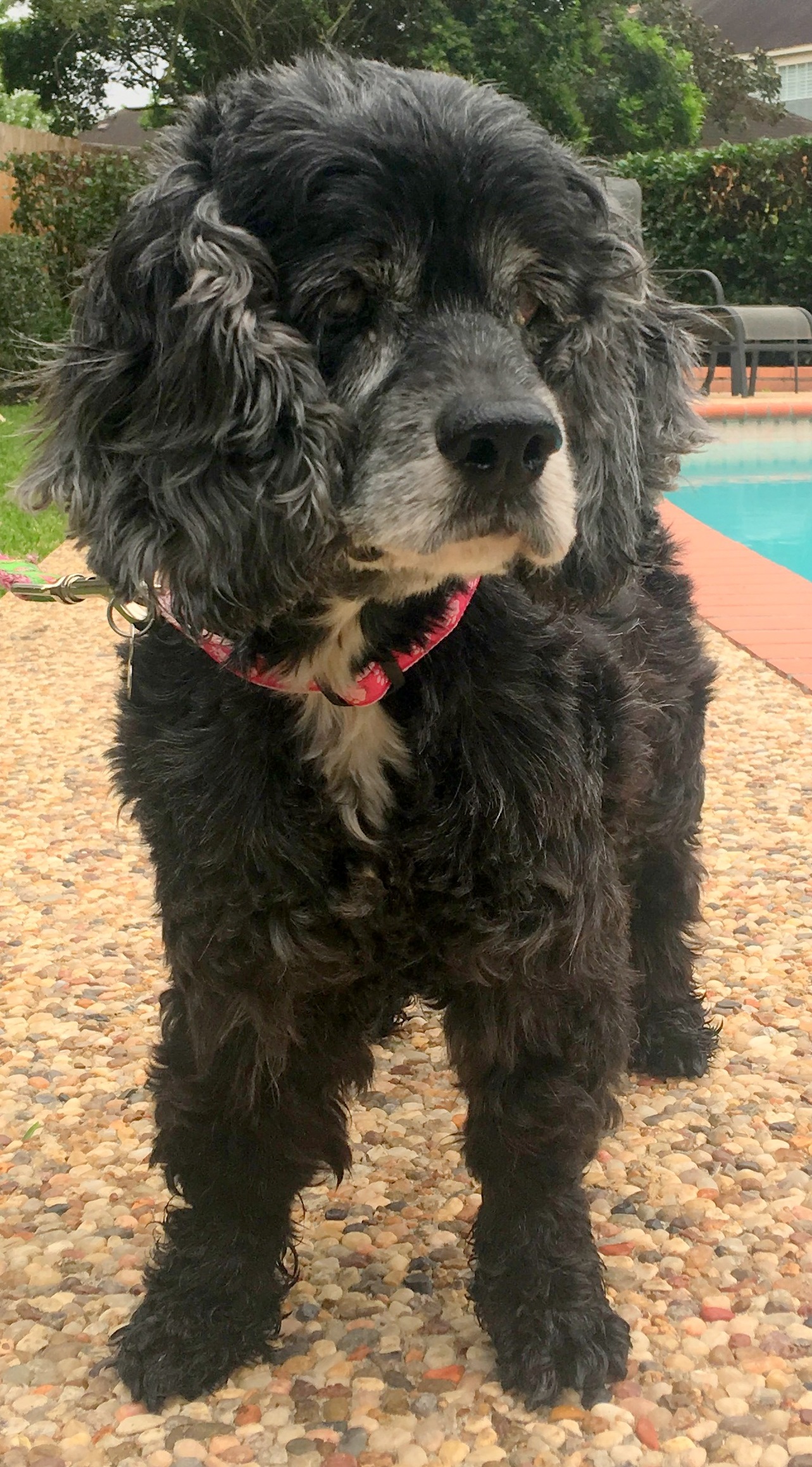 Hi, my name is Hailey, and I'm relatively new to GCCSR. I was adopted a couple of years ago from the city shelter by a nice family, but then they had to move and couldn't take me with them, so they dropped me back off at the shelter. Everyone loved me there, took me to an adoption event, and reached out to a lot of rescues to swoop in and save me. Even though I'm a blind, senior girl with an estimated date of birth of March 2009, so far it seems I'm in relatively good health and just need to get my teeth cleaned.

My foster mom describes me as a snuggle bug who likes to sit with my family members and be very close. I do well in a crate when they're not home, and once I know my way around the house a little better, they'll probably give me more freedom. For now, though, it's in my best interests to limit my 'free space' to when I'm being supervised just to keep me from hurting myself or from getting too close to my brother's toys, as he doesn't appreciate that very much. I don't want them; I don't even know they're there, but he doesn't like me to come close to them. Silly boy. My family also has a pool, so I have to be walked on leash in the backyard as I seem to head straight for the pool every time I'm out there. When it gets a little warmer, they'll take me in the pool with them to see if I like to swim, but they can never let me out there unsupervised since I'm blind.
I've got a good appetite and am very curious about my surroundings. I do well if my foster mom and dad snap or pat their legs so I can hear them and follow the noise. They're surprised how quickly I'm learning the lay of the land, but that's because I'm a rock star. One little tip ~ at night, I really don't like to be crated as I want to be near you. My foster mom has been letting me sleep in the bed with her, else I bark and cry all night long. It's a good idea to keep a leash on me, or to put me in the middle so I don't fall off... but once I'm as snug as a bug in a rug, I sleep peacefully all night long until you're ready to get up.
I'm friendly to all people, although I got a little anxious and snippy at my first vet visit when there was a big, scary dog in the room next to me. He was being really loud and it made me nervous, so I was a little reactive. I am the same way if my brother gets in my face about his toys, but as long as I'm not feeding off of negative energy from another dog, everyone talks about what a sweet, good girl I am.
Stay tuned for more updates as I continue to settle in and my foster family gets to know me. I'm so grateful to have found a place with GCCSR and can't wait to meet my FOREVER family. Everyone around here is telling me to BELIEVE, and that's what I'm going to do!
Please submit an application if I've caught your eye and you'd like to meet me!