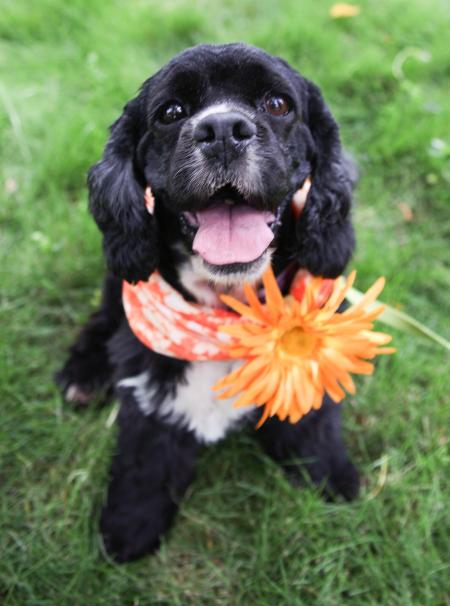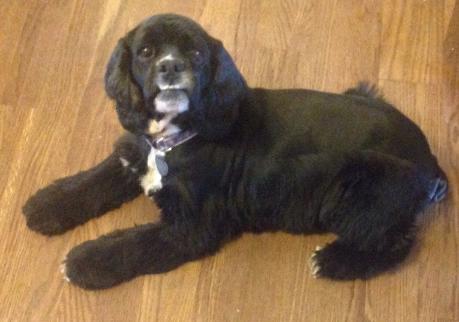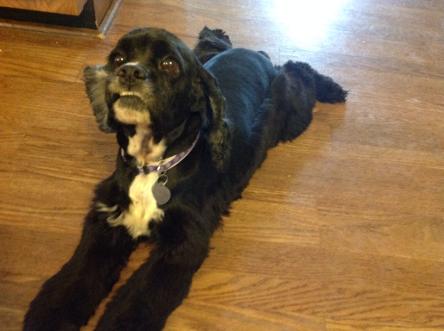 Hi, my name is Precious and that name suits me very well because my foster mom thinks I'm pretty, 'precious'. I'm a black female Cocker Spaniel, born around September 11, 2007. A volunteer drove me all the way from New Orleans, where I was an owner-surrender at the shelter, to Houston, TX, where I've been in my foster home since the end of May 2014. My previous owners couldn't afford to keep me any longer, so here I am. There are three dogs in my foster home that I get along with really well. One is a young, 3-year old and the other two are seniors. I follow their lead and do whatever they do. If they nap, I nap. If they want to chase squirrels, I'll join in on that, too! We don't really play together, we just hang out in the backyard, go for walks, chase smaller animals, etc. I don't go after their food or toys or anything like that because I am so well behaved. I met two of my foster mom's grand-dogs and enjoyed them; especially, the large Vizsla. We had lots of fun together and she is really big!
I THOROUGHLY enjoy my food and practically live to eat. I gulp it down really fast, but have been trying to slow it down a little bit. However, I just can't help myself. If you're eating something, I won't cry or whine or bark, but I will stare at you, hoping that you'll give me a little of whatever you are enjoying! My foster mom says that if I she could read my mind, I would be thinking, 'food, food, food', and yup, she's right! I'm 100% potty trained and mind my manners in the house. I'm past all that puppy stuff like chewing.
When I first got to my foster home, I was super itchy, but some medicated baths and steroid medicine has helped me tremendously. I don't even mind getting my pill, since I get a little cheese snack afterwards!!!!!
My foster mom says that I always look like I'm smiling and am just a little sweetie with a big, wonderful personality. I'm very strong and pull when being walked on the leash. We are working on correcting this pulling thing, which I likely do because I've never really been walked on leash in my past life, so it's all new to me. There are some human kids that live next door, who visit me, and I do really well with them! Not too sure about the cat that is in my foster home, though. I don't pay much attention to the cat, and she doesn't really come near us dogs, so it's hard to tell if I like them or not. I'm still on the fence with the felines, I think.
I like being with my human and follow my foster all around the house. I do tend to get under foot while running past you or just following you around. I sort of get tangled up in the excitement of being near my person, because you MAY just HAPPEN to go into the KITCHEN, and we all know what that means . . . FOOD!
If you are interested in a sweet, fun, easy, yet physically strong little girl, then fill out the application and get the ball going to adopt me! You will not be disappointed one bit! Precious is heartworm positive, but undergoing treatment at GCCSR's expense. She is available on a foster-to-adopt basis to the right home if you would like to see her through her treatment, provided you are willing to continue her care at our vet.