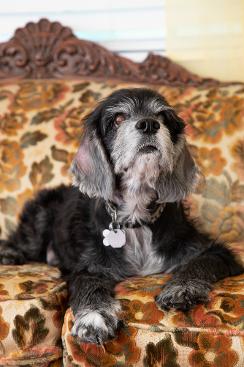 Hi, my name is Cody and my estimated date of birth is February 2007. Like the story of so many others in GCCSR's program, one of my elderly owners passed away and when the other one had to move into a retirement community, she needed to find a new place for me to go. Thankfully, a foster stepped up to the plate for me, and now I'm a proud member of Coffee Nation.
My original mom sings the praises of me, and said "I'm the greatest dog that ever lived." Given the company I'm in, I know that's a big compliment. I'm not a big barker unless someone is coming into the house, and when you take me on a walk, other dogs and people don't bother me at all. I'm a well-mannered, social butterfly and quite handsome if I do say so myself.
I am completely housetrained and love following my foster all around the house until I decide it's time to cuddle up in a corner for a nap. I am pretty spry for my age, so don't let my birth date fool you. My foster mom thought I would enjoy staying in a play pen while she was away from home. Hmph – I don't think so - after some time, I started climbing out and enjoying the freedom of snuggling any place I wanted!
My original mom cooked chicken and chicken livers for me, feeding me canned dog food only when she didn't have time to cook for me, so it's no wonder my foster mom has been having a bit of a challenge getting me to eat kibble. We're figuring it out as we go along and I'm enjoying the canned food more and more, but not so much the kibble, unless I'm super hungry. Other than my finicky eating, my foster mom says my other mom wasn't exaggerating at all about what a good and easy boy I am.
I'm neutered, up-to-date on vaccinations, microchipped and heartworm negative. I've also had my teeth cleaned, and my original mom said I've been generally healthy 'for a cocker,' having had only a handful of ear infections the entire time I lived with her. My foster mom said my ears do get a bit dirty, so you'll need to stay on top of cleaning them for me to help avoid infection, and also give me daily eyedrops (cyclosporine) to help with lubrication.
If you're looking for a handsome, laid back, well-mannered gentleman who just wants to hang out with my people, then I'm your guy, and I am looking forward to meeting you!