The Inspiration Behind GCCSR

Hunter was a very special little boy. He was rescued from a situation where he was neglected and kept in a garage day in and day out for about 2 years. Though he started out being nicknamed "devil dog" by his new parents, Hunter ended up transforming into quite an amazing dog, one ready for his Canine Good Citizen test and therapy dog certification. His life and new found happiness with his new mom and dad were cut short just 11 months after he came into their lives. They arrived home one day to find him paralyzed. After a rush visit to the local ER and an overnight trip to Texas A&M it was discovered that he had at least 6-7 degenerated discs which were hereditary. When the doctors were looking at the MRI and saw that many bad discs, they couldn't really discern which one(s) caused his sudden paralysis. The doctors could only address 4 of the discs at a time, and he had less than a 10-15% chance of walking, bowel control and ability to go without having his bladder expressed for him every single time. Though it was a very hard decision, his mom and dad decided it would be best to end his pain and suffering and said goodbye to Hunter.
Hunter and the story of his transformation after a rough start at life, is one of the primary reasons why our fearless President decided to start this rescue. Below is an excerpt from a letter she wrote to her beloved Hunter after he had passed. I think we all have experienced this kind of love for an animal at one point or another in our lives. That is why we do this, every day, to help as many as we can, one at a time.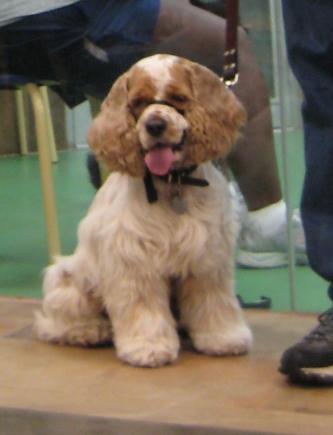 ~To Hunter
You were amazing ~ to watch you blossom was truly an unforgettable experience and a testament to all the 'unwanted' dogs out there. With a little bit of love, guidance, discipline, and 'routine', so many of you guys give back tenfold and are such a joy to your people and all who meet you/know your story.
Although the pain of losing you and the memory of seeing you paralyzed that day brings tears to my eyes each and every time I think about it, we are so grateful your injury happened under our care. If that was our 'purpose' in your life ~ to be there for you when it happened ~ then we are happy to have served you in that capacity. We also hope that the love we showed you helped to make up for the 2 years you spent isolated in those stupid people's garage. I really hope we helped you forget about your past, and I think you did when I remember the way you approached every moment of every day with such enthusiasm.
Thank you for the honor of knowing you, for the love you gave us, for the enthusiasm you showed every day of your life, for all the lessons you taught us, and for bringing us closer together. I am soooo sorry we couldn't save you and I wish we could have had more time together, but we will see you again one day at the Rainbow Bridge. I can't WAIT to see your smiling face and see everything you're capable of without the pain you suffered here on earth! We love you, little buddy… and until then, please take good care of Shelby, Junior and Twister!!
You WERE my sunshine, Hunter, and your memory will forever live on through the legacy you left.
~Mom
Please click the button below to donate in memory of a lost companion. Be sure to tell us the name of animal your are honoring and we will list their name on our Remembrance Page along with the amount donated in honor of that animal.
Thank you for your support!