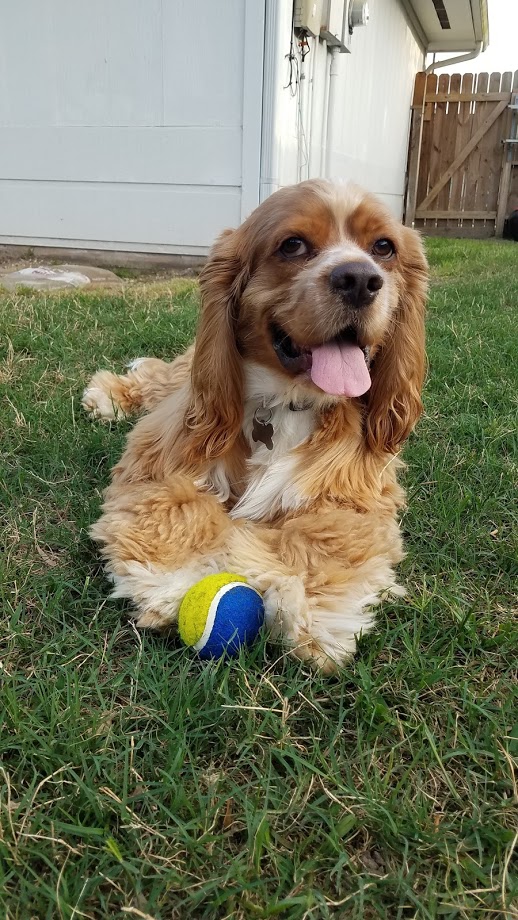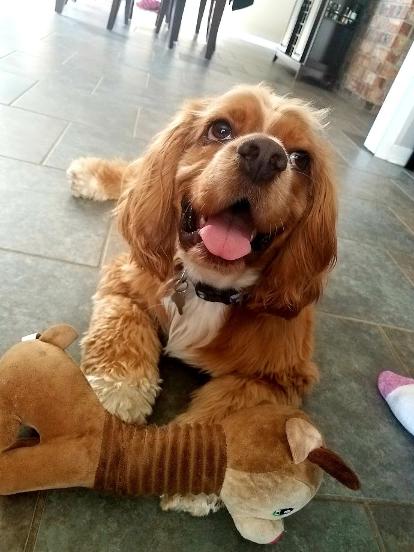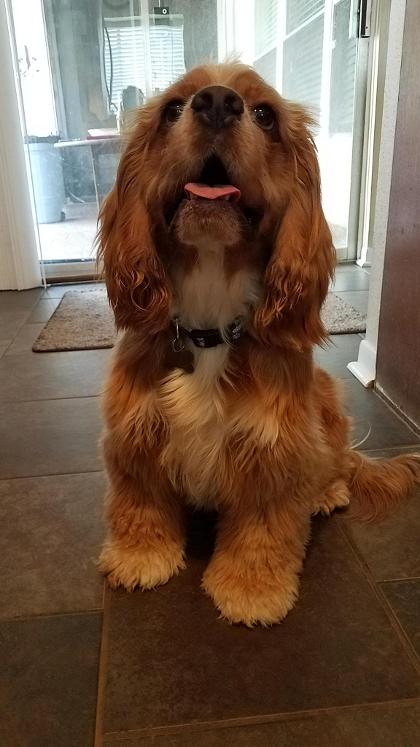 Hey everyone! It's me! Cowboy!!! My estimated date of birth is December 2017, and I'm a lean 40 pounds. My fur is very soft, reddish-tan with sections of white... and aren't my freckles just the cutest??!! My favorite pastimes include tug of war, squeaky balls, toys, eating (what cocker doesn't love food?!), and taking walks with my mom! I just adore my mom so I follow her EVERYWHERE!!!
I have been in my foster home for a while. In the spirit of full disclosure, I have had some socialization issues that I have been learning to deal with. For this reason, it is best that I not live in an apartment setting where I come into contact with new people and new dogs multiple times daily. My foster mom, along with the trainers, have diligently been working with me to help me gain trust in people again and to be confident in myself! While I still have my triggers, my foster mom knows what they are & she has learned how to parent me through the situations. She's able to anticipate those triggers so I don't have to worry about not being a good boy! This is a skill she will help my new family learn when the time is right, because it's the kind of leadership I will always need.
You may ask, what is parenting?? And how does this involve me, your potential new family member? It's actually very simple. My mom keeps a routine and structure for me, and in return, I put all my trust in her that she has any situation under control, and that she will take care of it and of me. This way, I don't have to worry about or react to anything or anyone. Also, proper introductions are always a MUST with my other furry friends AND humans... slow and steady so that I am not surprised. It takes a while sometimes for me to warm up to you, but once I do get comfortable with you, I am just the sweetest, silliest, lovable, playful, goofy cocker spaniel you will ever meet! I know sit, stay, come and have even learned a new trick...how to shake when I get a treat!
I live with 3 other dogs and get along pretty well with them. My foster mom says I am a follower & will do whatever everyone else is doing. So, if one of my other brudders or sisters has a bad habit (i.e. barking at the leaves blowing), I tend to pick up on it and join in...very quickly. The same goes for good manners! My foster mom makes sure we all follow the same rules. She says everyday is a dress rehearsal & practice makes perfect! I haven't been around kids all that much and would honestly prefer to be around older humans who are more predictable. It's probably also best that I not live in a house with cats, as I really want to chase cats and squirrels when I'm out on my daily walks.
I'm up-to-date on vaccinations, heartworm-free, neutered and microchipped. Mom says I have some of the cleanest ears she has ever seen, so if you're not afraid to put in a little work to maintain the structure and guidance I need, fill out an application to meet me! You won't regret it... I promise, and I will be the very best, most loyal friend you've ever had!!