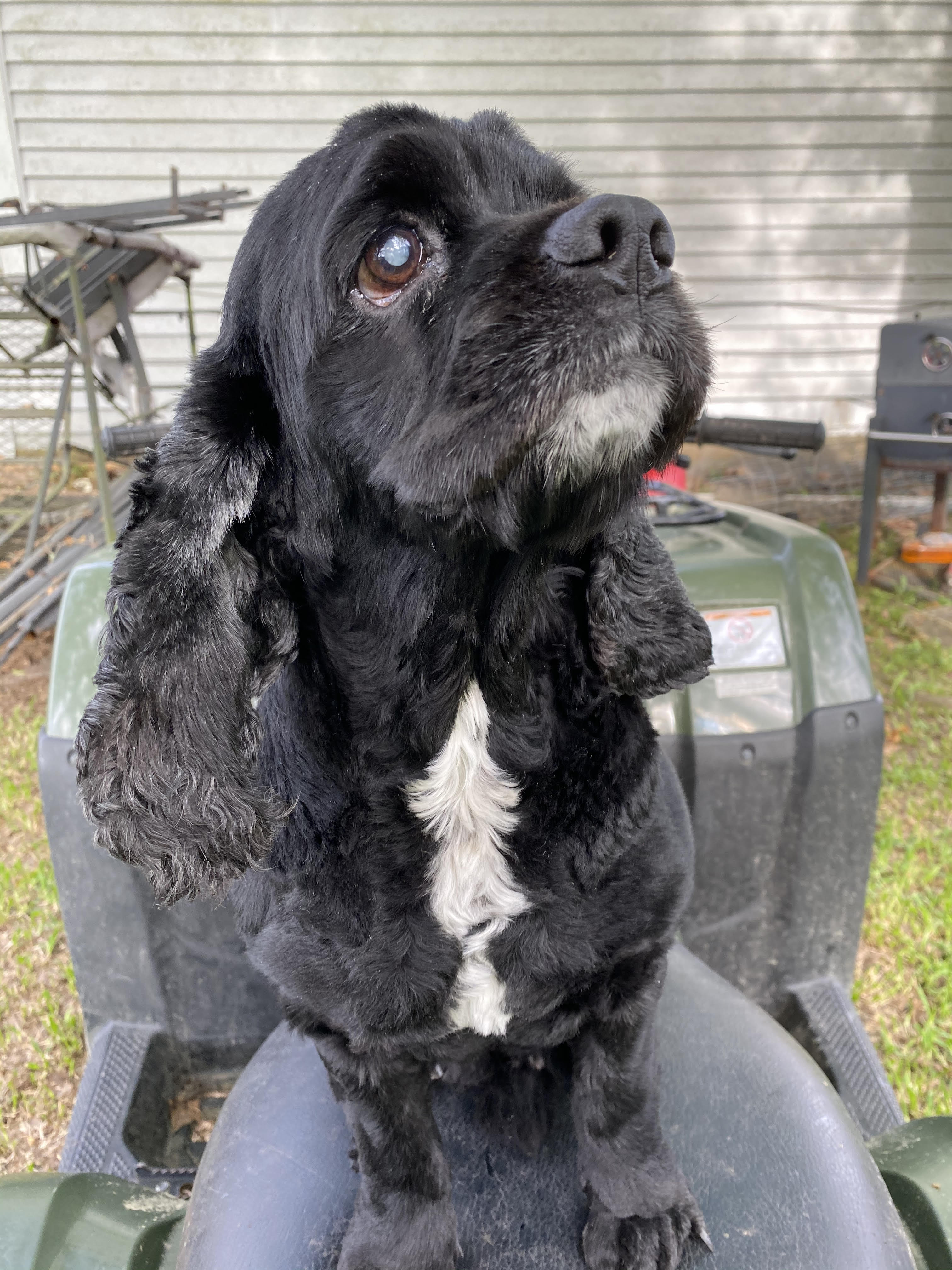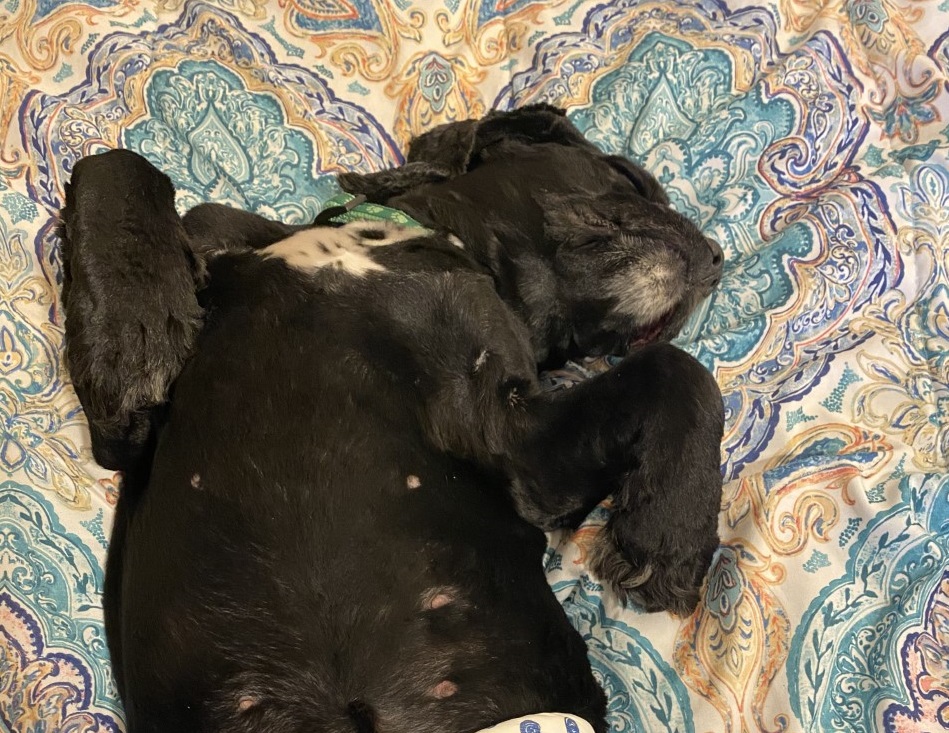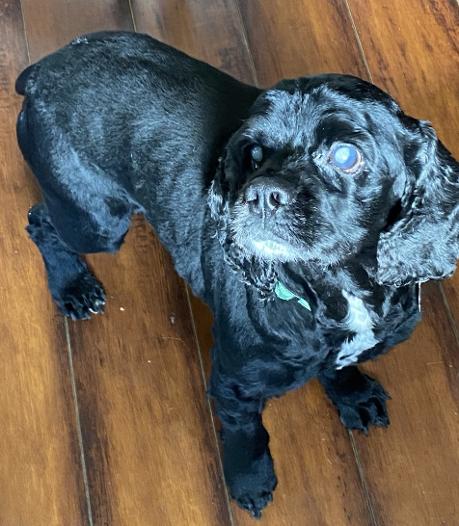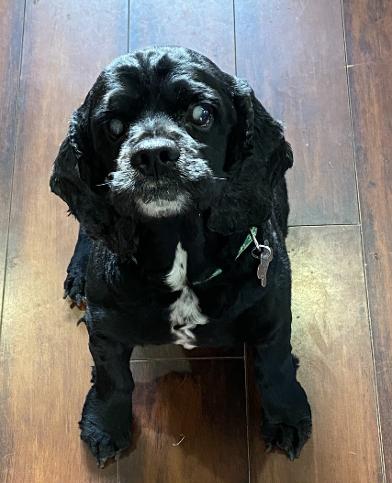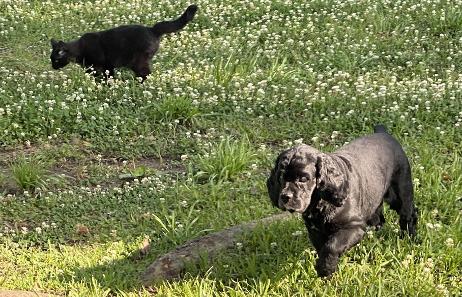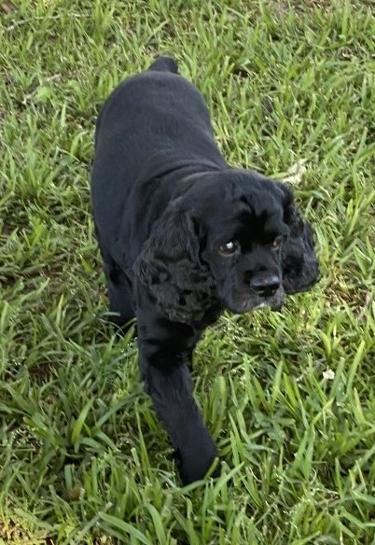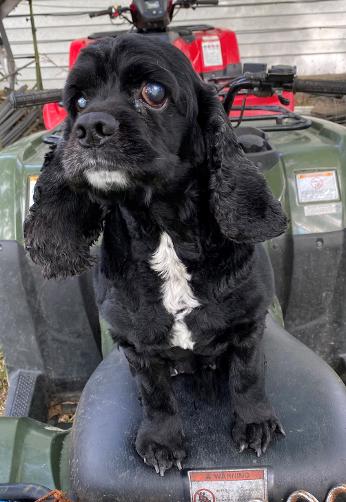 Hi, I'm Delrey, an all-black, male Cocker Spaniel with an estimated birthday of March 2012. I was an owner surrender to the humane society by a family who no longer had time for me due to extensive travel, and thankfully, GCCSR had a spot for me in their program.
While I am super sweet and have never met a stranger, I do not enjoy having my ears and paws handled. When I first arrived, my fur was overgrown, stuck on my dewclaws, and my nails were curled under, almost growing into my pads. My ears were full of heavy, stinky mats, and they hurt me a lot too. My foster mom touches my paws while she gives me belly rubs so that I know it is okay; she hopes, in time, I'll become more tolerant of this, but for now, I'm still not sure what I think of it. When she cleans my ears once or twice a week, she is always whispering sweet nothings to me, all to convince me that I know this is also not a bad thing.
I'm mostly blind, but don't let that scare you because it doesn't hold me back at all, and it doesn't keep me from my favorite pastime of following my foster mom around!! The eye doctor says I may be able to distinguish between light and dark when the lighting is good, and my foster mom has noticed that I bump into fewer things when it's bright. She said I learned the lay of the land at her house really quickly, and I do fine as long as she doesn't move the furniture around! I have also learned when my mom tells me 'up' that I am close to a step & I need to slow down. This also works when she says 'down.' I am an active boy who loves to go on walks and explore all my surroundings, but I also know when it's time to just settle down with my human, and I'm totally fine with that too.
I really enjoy being a velcro pup. I'll enjoy anything you're doing. As a matter of fact, I'll even supervise to be sure you're doing everything around the house correctly; from laundry and cooking to watching TV, taking a nap, and walks! I love everybody and never turn away the chance for some lovie time with my favorite human. I also really love my toys! They are everywhere! Makes it easier for me to bump into one! One of my favorite things to do is grab one of my toys and jump on my mom's lap and play with it! She says I have no concept of personal space but what's a guy to do! I just love to be around my human!
I live with 3 smaller dogs (10-18 lbs) and we get along great, although I don't think my new sister appreciates when I bump into her. I keep telling her I can't help it, and when I met my mom's neighbor's big dogs, we got along just fine. Mom doesn't think I care for really small dogs though. They seem to antagonize me a bit more than the others, but she's working with me on that and teaching us all to peacefully coexist. It's important that meet & greets with my other dogs be handled appropriately. I get pretty excited meeting new friends, but if I am greeted too quickly or the other dog is too much "in my face," I tend to get a bit snappy.
In addition to doing well with most other dogs, I'm also good with cats. Sometimes I'll bark at them, but I won't chase them. While I've done well around quieter, more predictable children, due to limitations with my vision and sensitivity about my ears and paws being touched, older children will be a better match than the little ones for me. They know how to respect my space and not catch me off guard or by surprise.
I'm housetrained and I do great when my mom is home, but sometimes I will mark certain areas when she's gone. I'm making progress with this as I'm learning my new routine and to trust that my foster mom won't be gone forever, but I also have a little separation anxiety when she leaves us for work or to run errands. For this reason, an apartment setting will not be ideal for me because I howl when my mom leaves. She says I can be pretty loud, but what's a velcro pup to do?! We have been working on this and now that I'm adjusting to my new routine, my howling, while it hasn't completely gone away, has gotten MUCH better!
As far as medical needs, I require daily eyedrops to control the pressure in my eyes. We also found out from my ophthalmologist that due to a congenital condition called gonio dysgenesis, I'm not a good candidate for cataract surgery. While the SPCA noted mildly elevated kidney levels and a vet in Louisiana put me on a prescription diet for a while, my vet in Houston has stayed on top of this, said my kidneys are fine, and confirmed I don't need to be on the prescription diet. I'm neutered, heartworm negative, up to date on vaccinations, microchipped, and ready to find my forever home. While I love a good nap, I have more energy than one would think and love walks and just being around you in all you do!! Are you ready to meet your BFF? If so, fill out an application today!