Who's handsome, adorable, playful, reliable and loyal? Me, Joey, that's who!!! My estimated date of birth is May 2014, and I found my way back to GCCSR a year after I was adopted. See, I was having some socialization issues that my new owners didn't know how to deal with. The folks here at the rescue sent me to a training facility that gave me the tools over the course of a month to become a confident dog while learning to trust people again. I still have my triggers, but my foster mom knows what they are. She has learned how to parent me through the situations, and to anticipate those triggers so I don't have to worry about not being a good boy!
You may ask, what is parenting?? And how does this involve me, your potential new family member? It's actually very simple. I put all my trust in my mom that she has any situation under control and that she will take care of it. This way, I don't have to worry about or react to anything. All I have to do is be my happy, ball playing, wiggle butt wagging, happy-go-lucky self! I am a very reliable little guy as long as I can rely on my family to be there for me and reassure me if I do ever feel stressed or unsure.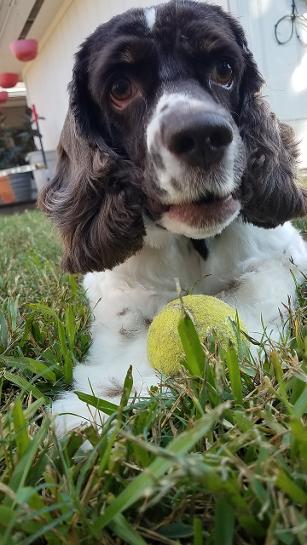 One of my biggest pleasures is pleasing and bonding (connecting) with my person. So don't be surprised if I follow you around all the time. I also LOVE to go on walks. My other favorite thing in the whole wide world (aside from my mom) are tennis balls! They are my kryptonite and we play ball just about every single day! My mom keeps me on a schedule and I like that best because I know what to expect and what I need to do! My perfect day (which is every day) is to wake my human with kisses. I do my business, eat breakfast and go for a morning walk.
Mom goes to work and I stay in the kitchen waiting for her return because I just know we get to play fetch!! Did I mention that is one of my most favorite things?!??! In the evening we have dinner, take our nightly walk and chill a bit before bedtime. I have a chewy toy that I enjoy during this time. Heck, sometimes we even take a ride in the car. I love sitting shot gun ;)
I live with 4 other dogs and my FM makes sure we all respect each other's boundaries. I haven't been around kids all that much and would honestly prefer to be around older humans who are more predictable. I do need proper introductions with my other furry friends and humans, slow and steady so that I am not surprised or spooked. I also have had a little bit of anxiety when my mom leaves the house, but am slowly getting better with this also!
I'm up-to-date on vaccinations, heartworm-free, microchipped and neutered. I'm good for my baths, love the simple joys in life and have just the right amount of energy for someone looking for his/her new best friend!! Is that you?