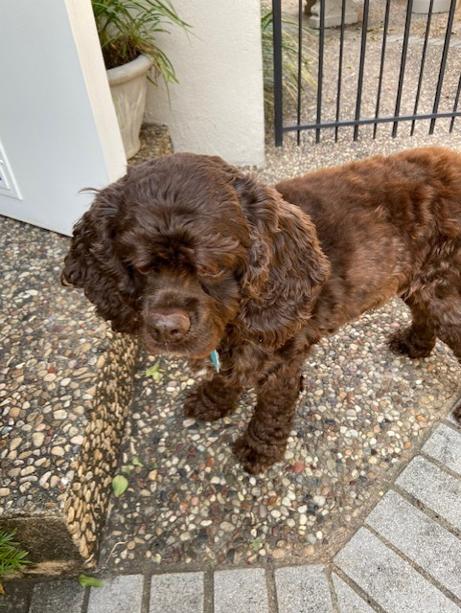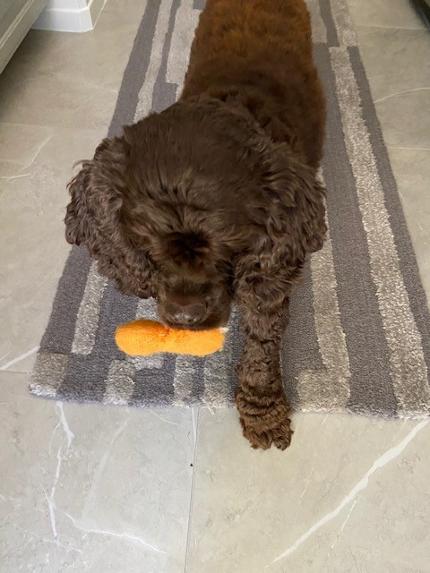 Hi, I'm Jojo, and my estimated date of birth is March 2015. I was actually adopted from a Louisiana shelter in 2017, and then turned back in 3 years later in July 2020. They kept me outside the whole time, so my condition declined, my eyes have some problems, and I got heartworms. They said I was too much trouble, but I don't really know what that means because they never spent time with me and never took me to the vet. Nevertheless, I just LOVE people and I crave their companionship.
I stayed with my foster mom in Lake Charles for about 3 weeks, and then Hurricane Laura hit. That was really scary, and things were so messed up after that in the city with no power that I needed to move. The only foster available was in San Antonio, so that's where I am now.
My foster mom there describes me as playful and sweet and that I love everyone I meet. I walk well on a leash and get along with the dogs in the house for the most part unless they're mean to me. I LOVE going for car rides, and I get excited when I hear the jingle of a keychain because this means we get to go somewhere! Next to you and car rides, chew toys are my favorite thing, and I'm also known to chew paper and plastic if I can get my paws on them. I love and respect the cats, and my new BFF is a basset hound who visits from time to time. I am still learning good potty manners in the house, but I've made some progress. Routine and consistency go a long way, but I was left outside for 3 years with no guidance, so my whole world has been turned upside down. I respond well to verbal correction, and my foster mom is working with me on some other basic commands like sit.
The wonderful thing about me is that I LOVE MY PEOPLE. I am truly a velcro dog, and I want to be with you all the time. Every now and then, I may venture off to play with a chew toy on my own, but it won't be long before I come back to check on you, give you kisses to tell you how much I missed you, and hang out with you. I also love to sleep with my foster mom and dad in their bed. In all honesty, I've got some separation anxiety because of my past, so it would be best for me to live with someone who is home most of the time... not just now during COVID, but even after the world gets back to 'normal' and people return to work.
In the spirit of full disclosure, I have heartworms, so I'll be going through treatment soon. I should have the 'all clear' from my vet in early December, and then I'll be ready to go to my new forever home after we follow-up on my eyes. Speaking of my eyes, you also need to know that they're not all that great. While I probably see shapes in good light, my eye doctor said I've got hemorrhaging in my left eye which is likely due to retinal detachment. I also have cataracts, but am not a good candidate for surgery because I'm at high risk for glaucoma, and surgery could exacerbate that. They haven't begun any treatment at this time, but they want to see me again after heartworm treatment to make sure my pressures are still holding steady. This is something my new owner will need to keep an eye on for the rest of my life because left untreated, it could be VERY painful for me... so that means eye appointments probably at least twice annually. This also means that I can never be around a pool or other dangerous situations unsupervised, because I may very likely go completely blind as I get older. Please don't let that scare you away because like so many other dogs, I'm learning my way around the house and it doesn't really slow me down. If you could do me one favor, though, please don't move the furniture around too often
.
Like a lot of cockers, I'm a little high maintenance, but the thing that sets me apart is that I'm SOOOOOOO sweet. From what I've heard, GCCSR can't say that about some of their dogs who end up in training because they're not good with certain people or other dogs. If you're looking for a constant companion who wants nothing but your love and to be by your side, I'm your guy. Whatever you do for me will be repaid tenfold with my love and adoration.