Hi everybody! I'm Missy, a sweet, little female Cocker Spaniel and I'm approximately 10 years young. That's right – my foster mom and dad can't believe I am possibly that age because I don't act it at all. They describe me as silly, sweet, and a little love. I really like leaning up against my people while they sit so that they'll pat me, scratch me, and just adore me, which isn't hard to do. Just look at me with my big brown eyes and crazy, fly-away hair! Speaking of fly-away hair, I'm really good and cooperative for my spa days.

If you're wondering where I came from, I was brought in to a shelter by a woman who thankfully brought me and some other dogs in to safety when we were all dumped on her property. I can't even remember, and don't want to remember, how I even ended up there, but I know that I am safe and happy now.

Even though I had a really rough start, my foster parents brag that I'm housetrained and really smart. They showed me this thing called a doggie door, and within a matter of days, I had it mastered!! I love to go on walks for a good 20-30 minutes each day, soaking up the sun and enjoying time with my foster parents. When I first came to my new foster home, I tried to steal the other dogs' food, so they fed me separately... but now that I know I'll never miss another meal, I don't try to steal their food any longer.

As far as my health, I'm heartworm negative, spayed, microchipped and up-to-date on shots. In the spirit of full disclosure, I should mention that I am a little hard of hearing. Noooo, I am not ignoring you or having selective hearing, it's just one of those things that happens when we get older. I hope that's not a problem for you because you would miss out on a great girl!!

I also had a few surgical procedures when I first arrived into rescue - two mammary tumor chains were removed, a hernia was repaired, and my pearly whites were cleaned. The good news is that all the biopsies came back benign, so we were all really happy about that.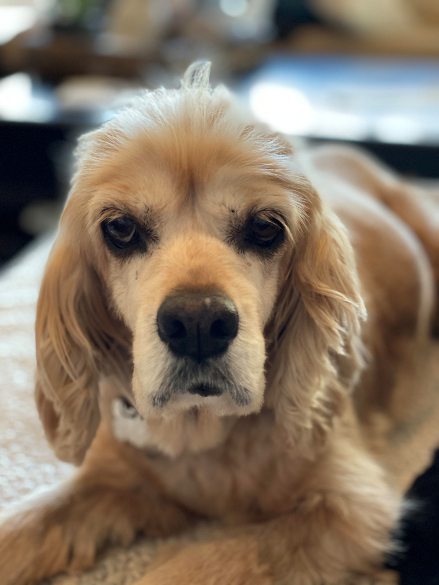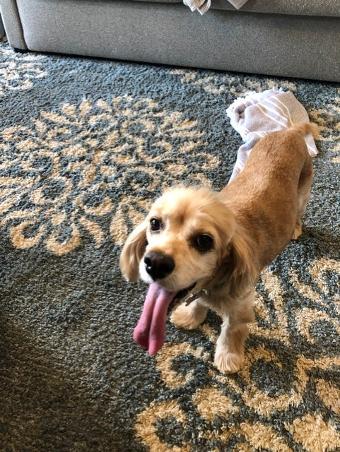 After all these medical procedures and a LOT of love and TLC from my foster mom and dad, finally, I'm ready for my forever home!! I am a pretty laid-back girl, who enjoys other dogs and kids over 8-10 years of age, or even just adults - I'm very versatile. If you are interested in a young at heart, silly, sweet, calm girl to love and snuggle, that would be me, and you need to apply!