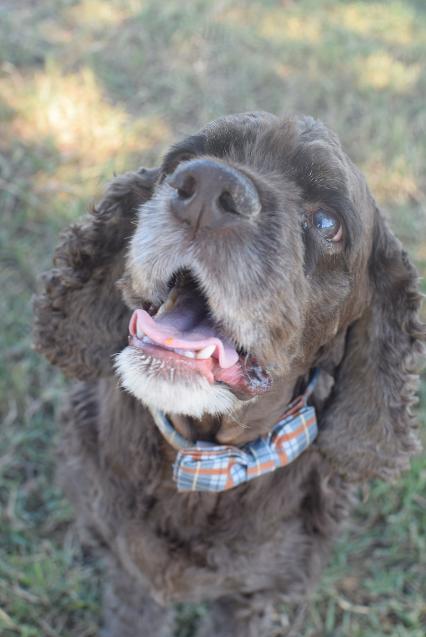 Hey all! It's me, Oscar! An energetic guy with an estimated date of birth of February 2011. I am housetrained and I get along with other dogs and older kids. My foster mom says almost everyone loves me once they meet me. She also says I'm a tall dude, weighing in at 35 lbs. Don't worry... I'm not overweight; it's all muscle! I walk very well on a leash and only pull when I see another dog. And like a lot of people I know, I do best when I have a routine. This way, I'll remind you when it's time to eat and potty, and then everyone is happy.
Did you check out my pictures? I clean up nicely if I should say so myself. I was a mess, found as a stray with 6 lbs. of matted fur on me. Yes, 6 lbs!!!!! It hurt me, all those knots and pulling on my fur to try to get them out. So, the people at the shelter in Louisiana had to sedate me while they worked on all that awful matted fur. Look what was underneath! A beauty with a nice, shiny coat and lots of spunk. I love to play with tennis balls, primarily and enjoy squeaky toys sometimes. I don't mind playing with the other dog in my foster home and will playfully bark and growl in a fun way when I share toys with him. Barking is my favorite way to express myself, especially if I hear a loud noise, if I'm playing outside, or if I'm on a walk and see another dog being walked or approaching me.
While I'm a very fun-loving, smart dog, I do have a past that may have included some sort of abuse. I get very nervous while getting groomed and need sedatives to help make me less anxious and more comfortable during the process. For this reason, I would really like it if my owner groomed me, or if they at least took me to the same person every time so I can learn to trust them and get comfortable.
Also, one time, long ago, I had a really bad ear infection and a small child pulled on my ear. It hurt me a lot, so I snapped at the child as a warning to stay away; it's the only way I knew how to tell him. No one was hurt and my foster mom never saw that behavior again, especially since my ears have been successfully treated and they're not as painful anymore. Just in case, though, a home with either no kids or older kids would be much better for me since they might have a better understanding of giving me my space. My foster mom has said I'm very well mannered and am a really good guy. I hang out with her nephews who are 5 years old and 3 years old quite often and we cuddle and play with no problems.
I'm healthy, neutered, and up-to-date on vaccines. I do have dry-eye, though, so will need daily eye drops for the rest of my life. Right now, I'm at a great foster home where I get to play with another dog, play ball in the yard, and even go to the beach to play in the waves. I hope that life is looking better for me, and just know I'll thrive in the right home. Is it yours?