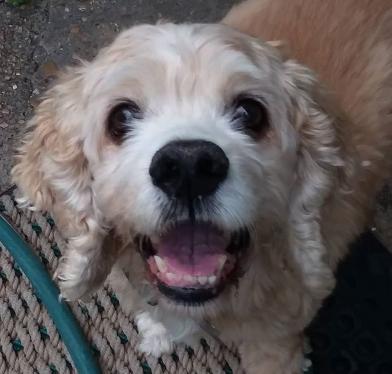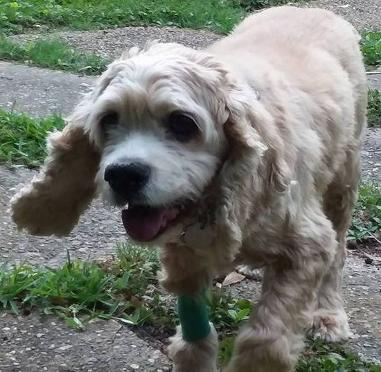 Hi everybody, I'm Sam, a sweet guy from Louisiana, now living in Texas thanks to the folks at GCCSR. I was found as a stray and was brought to a rural shelter in Louisiana, where I had no chance of making it out alive without a rescue commitment. Lucky for me, GCCSR scooped me up and here I am to tell my story.
My estimated birthday is April 2011 and I have lots of life to live! I'm already house trained and just learning about the doggie door. By the way, do you think I clean up nicely and am cuter than ever? I was amazed at my transformation from a matted mess to, well, quite a good-looking Cocker! I'm a good boy, who gets along well with the other dog in my foster home, likes calm and quiet, naps, eating, hanging out in the yard to watch squirrels, and sitting on your lap. One of the cutest things I do is walk around from room to room with a good chewy bone before I settle down to enjoy it. I love, love food, will grab a treat from your hand, so watch those fingers, and will steal it from the other foster dog's bowl if he doesn't eat it up fast enough. One of those slow down bowls may prevent me from eating my meals so quickly. Hmmm, on second thought, not sure that's going to stop me!
I have some intermittent pain in my back end, so we are only taking short walks for now; and, I'll need to take joint care supplements to help alleviate some of my age-related arthritis. I don't jump up much on the bed or sofa, and rather have you help me up there. This arthritis doesn't prevent me from counter surfing, though! Another of my favorite pastimes!
Not much is known regarding my past; however, I do frighten easily at loud noises, new situations, and commotion. A home with no children or children over 10 would be best because I get nervous when the grandkids come over to my foster home, and I chase them if they start running around the house. I prefer structure and low activity, so I like when they sit and not move too fast.
Sadly, if I think that I have done something wrong, I will hide under the bed...so my foster mom is giving me plenty of structure, love, and consistency that I crave to help me learn that I no longer need to be afraid. A calm, quiet home is just what the doctor ordered for me!
I'm heartworm negative and up to date on vaccinations and ready to find a loving forever home!