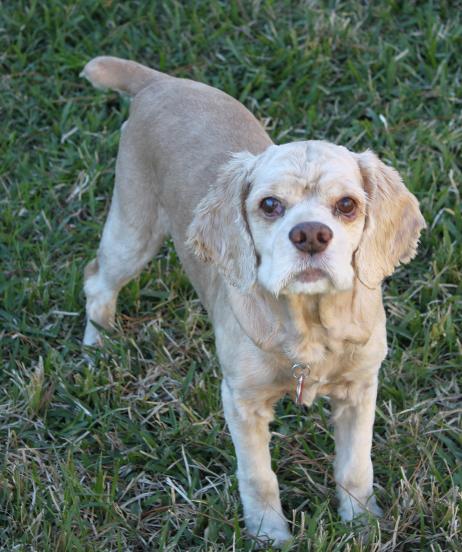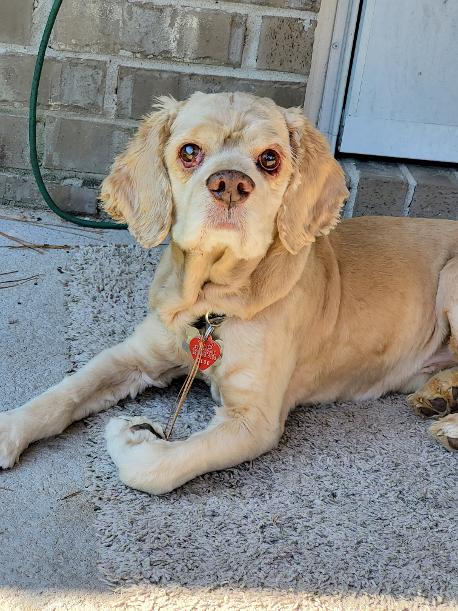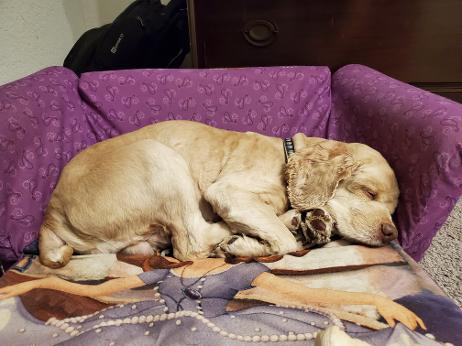 Hi, I'm Taz, formerly known as "Bean". I came to GCCSR from Louisiana, and my estimated date of birth is January 2011. Since I arrived in Houston, I've been getting used to my new foster home and family, had a spa day, and been to the vet...alot! Through all of this, the overwhelming feedback is that I'm super sweet to all people and dogs. Rumor has it they can't always say that about the dogs they get, so I'm a really extra special little guy.
So, like I mentioned, I was at the vet's office so much that, I have to say, I sure am glad the last couple of months are over! First, they started with a neuter and dental. Then, I had to go under again for removal of a polyp in my ear that had been causing chronic issues for quite some time. At the same time, they tucked two cherry eyes and addressed an eyelid issue that caused inflammation and irritation(entropion). The good news is that the ear surgery worked like a dream, and it seems I won't have to have the really invasive double ear ablation surgery that I was hearing them talk about-Phew!! It's important my family clean my ears regularly, though, as I'm one of those cockers who are unfortunately prone to ear infections.
At home, I get along with everyone... my foster mom and dad, my 2 legged siblings, and my 4-legged Doberman sibling. My foster mom is working with me to fine-tune my house-training skills and is helping me with some anxiety issues. I've been quite good with my potty breaks and will wait by the back door when I must go out, so that's going really well...only two, small accidents which is totally normal being in new surroundings and all. I enjoy sleeping all night on the soft, new doggie bed I got and make it through until morning.
I am all about my people, so I get a little anxious when I'm separated from them and can hear them... so I will bark. I cry and get barky when someone leaves the room, even with others there-I know when someone is missing and will continue to bark until that person returns. I don't like when everybody leaves the house and will bark for some time before I settle. I'm just uncertain right now and need some reassurance. Things will get better over time with patience, routine, and consistency... I've just been without care/home for so long that I'm still trying to figure everything out, and making sure that this isn't a dream, and that I really do have a family of my own.
I'm up to date on my vaccinations, heartworm negative and microchipped. If you're drawn to my dashing good looks and super sweet personality, then please fill out an application!